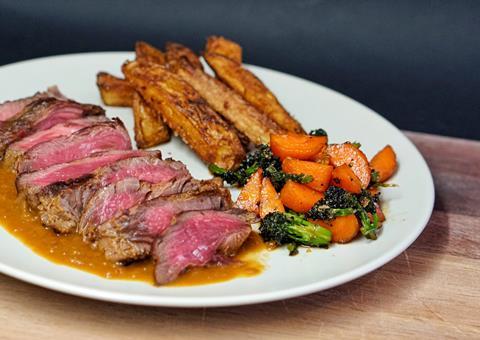 Vegan trend? What vegan trend? Plant-based fake meat sales may have continued to soar this year (see p136) but that doesn't mean shoppers are shunning meat, fish and poultry.
They spent an extra £618m across the three categories combined, a rise of 7.7%. A stark contrast to the category's near-£200m loss last year, it was primarily driven by the closure of pubs and restaurants and the subsequent boom in home cooking.
"A lot of this is down to the repertoire of people when cooking at home, and meat and two veg is central to that," says Jim Brisby, commercial director at meat processor Cranswick. "Parts of the category that depended on scratch cooking also benefited from their affordability."
The biggest contributor to growth was beef, delivering an extra £161.8m on volumes up 11.6%. Contrary to the general trend of price inflation over the year as a result of cuts in deals to stifle demand, the average price of beef has actually fallen 2.5% in the past year.
That's surprising, given Brits weren't eating any old beef. In October, The Grocer reported a 24% spike in steak sales as cuts destined for restaurants were redirected to grocery. A 9.6% rise in temporary price cuts helped shift the meat and also helps explain the deflation.
Soaring demand for mince and fair weather throughout spring and summer, driving demand for burgers and other barbecue cuts, further buoyed beef sales. It also benefited sales of sausages – the category's second fastest grower, up £125.9m – and chicken, which grew by £120.4m. Bacon turned in the fourth biggest gain, up £95.9m. "Premium bacon and sausage sales were even higher," says Cranswick commercial director Jim Brisby. "People were having cooked breakfasts more often as they were in the home and not commuting, so why not cook a sausage or bacon sandwich?"
Duck also took off in lockdown, with sales up by nearly a quarter. "Shoppers were trying to replicate take-away and restaurant dishes," says Nielsen analyst Lisa Rees. With Covid restrictions set to continue, our woks and BBQs could see even more use in 2021.
Top Products 2020
In association with Nielsen
Top 5 Fresh Meat
£m
£ change
%
Total volume change:
8.4%
Total Category:
4797.9
438.9
10.1
This year's rank
Last year's rank
Brand
£m
change (£m)
change (%)
1
1
Beef
2014.8
161.8
8.7
2
2
Sausages
860.8
125.9
17.1
3
3
Bacon
815.3
95.9
13.3
4
4
Pork
460.2
26.0
6.0
5
5
Lamb
406.4
10.9
2.8
Top Fresh Poultry
£m
£ change
%
Total volume change:
7.4%
Total Category:
2011.5
133.9
7.1
This year's rank
Last year's rank
Brand
£m
change (£m)
change (%)
1
1
Chicken
1805.3
120.4
7.1
2
2
Turkey
160.0
5.1
3.3
3
3
Duck
36.8
7.1
24.0
4
4
Poussin
3.4
0.8
31.4
5
5
Guinea Fowl
2.8
0.2
10.2
Top 5 Fresh Fish
£m
£ change
%
Total volume change:
3.6%
Total Category:
1869.0
45.2
2.5
This year's rank
Last year's rank
Brand
£m
change (£m)
change (%)
1
1
Salmon
826.5
29.8
3.7
2
2
Cod
189.3
5.5
3.0
3
3
King Prawns
180.3
10.2
6.0
4
4
Haddock
142.1
6.9
5.1
5
5
Prawn
67.6
-4.7
-6.5
The Grocer's Top Launch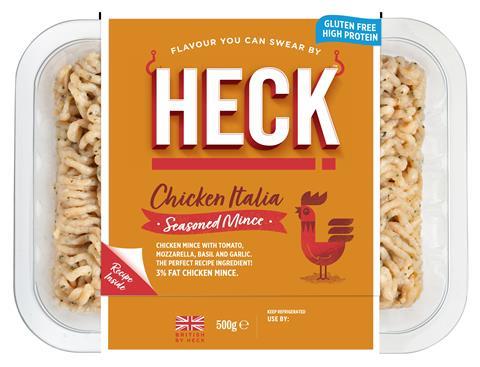 Chicken mince, Heck
After blazing a trail in making its chicken sausages a fridge staple (and becoming the Yorkshire supplier's second best-selling SKU), Heck went one step further in August with a trio of low-fat chicken mince lines. Chicken Italia, Simply Chicken and Spring Chicken mixed with spring onions were developed in less than a month at the height of lockdown, says Heck co-founder Jamie Keeble. They are ideal as a "lean base" in a host of recipes, he adds.