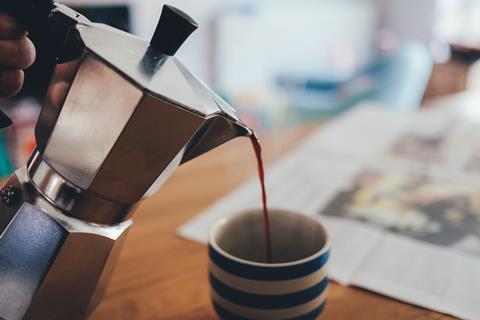 Starbucks and Costa Coffee didn't spend lockdowns simply waiting to reopen their outlets. Instead, they made concerted efforts to dominate the nation's at-home coffee machines. That much shows in the figures. The two brands added a total of £16.1m in the roast & ground retail sector, as they provided shoppers with a barista-style caffeine hit.
The 37.4% rise for Starbucks was down to a "programme of innovations and new product developments", such as this winter's Holiday Blend Whole Bean, says Sophie Demoulin, regional marketing for beverages at Nestlé, which holds the licence to its retail products.
Similarly, Costa – up by 35.6% – added an Intensely Dark Amazonian Blend range, as well as its first decaffeinated grind.
Between them, the two brands sold an extra 664,700 kg of roast & ground coffee in grocery. Their success in the sector isn't unusual, however. The top 10 brands are all in value growth – which is no surprise given the aforementioned closure of cafés and corresponding boom in sales of domestic coffee-making devices.
In fact, "there has also been a 17% increase in coffee brewers sold over the past year, with Tassimo seeing the largest coffee brewer sale growth" says Hannah Morris, head of category & shopper at Jacobs Douwe Egberts.
Which means people are trading up from "traditional instant formats into machine-led coffee consumption" explains All About Food, supplier of Costa's at-home portfolio.
Taylors of Harrogate was another brand to benefit. Its value in roast & ground is up by £4.4m thanks to "an influx of new shoppers" during the height of the pandemic, according to category manager Bryony Anderson.
Taylors responded to the shifting habits by launching an online 'Barista Bar' in partnership with Ocado to allow shoppers to learn more about coffee, decipher how to brew a perfect cup, and filter beans by brewing method or flavour profile.
Of course, with lockdowns an increasingly distant memory, many Brits no longer have the patience to grind and filter beans and maintain their brewing devices. Which is where convenient formats have chance to shine. Take coffee bags. They're "perfect for those with busy lifestyles but don't want to sacrifice a proper coffee" says Anderson.
Nescafé, meanwhile, has been focusing on making instant coffee a more credible alternative to ground.
In February, it added Azera Craft, calling it "the first ever instant craft coffee to launch in the UK and Ireland" (see Top Launch, below), and My Way Latte, a customisable instant promising "quality and convenience".
Gold Blend Roastery landed two months later in Light Roast and Dark Roast – "to help our fans enjoy barista-style coffee from the comfort of their home".
Even more fancy Nescafé instant is in the offing. It'll have competition, though. JDE's Kenco, for instance, relaunched its premium Origins range this year. The aim was to "bring to life the unique roasted coffee taste" with characteristics of beans from Brazil, Costa Rica and Colombia, says Morris.
Soaring costs
More premium options could be good news for the instant sector – which failed to add value over the past 12 months – and for its suppliers, who have faced soaring costs.
Global coffee prices hit a seven-year high this year due to unseasonal frosts and the worst drought in almost a century in Brazil, the world's largest producer.
Protests against the government in Colombia, meanwhile, meant coffee exports hit a 40-year low in May, while a strict lockdown in Vietnam – the leading exporter of robusta beans – led to higher prices due to concerns over export supplies.
The problems pushed robusta futures to a four-year high – up by almost 50% since the start of the year. Hedge funds piling into arabica futures only exacerbated the situation.
"Over the past 12 months, we have seen a sharp rise in ingredients, freight and other costs," explains Morris. "Significant fluctuations in green coffee prices have been reflected in the market and we expect that precedent to continue."
Fortunately for shoppers, coffee's average prices are yet to truly surge in the mults. Instant's average prices are, in fact, down 0.5% overall, while ground coffee is up by just 0.7%.
Punters have so far been insulated by hedging agreements between brands and their bean suppliers. Starbucks, for example, said in July it had locked in its coffee price for the year to September 2021 and the following financial year. The following month, JDE announced it had "pretty good hedging in place" and was negotiating with retailers on price.
But once such agreements come to an end, many brands will face new contracts at far higher bean prices – and shoppers may well end up paying the price.
The first signs are already starting to appear in ground coffee, with average retail prices for Taylors, Lavazza, Starbucks and L'Or up by as much as 8.2%.
However, coffee is not the only hot beverage battling inflation. Price hikes across ingredients, packaging and logistics have also hit hot chocolate makers, who also face rising cocoa prices plus a $400-per-tonne top-up to support farmers in Ghana and Ivory Coast, the two biggest cocoa producers.
Luckily for suppliers, hot chocolate sales are booming in grocery. The sector has added £9.7m. And just like in coffee, premiumisation is a growing trend. "Consumers increasingly say that if they are going to have a treat it should be something they really enjoy," says Susan Nash, trade communications manager at Mondelez.
That demand for posher hot choc has brought Lindt to the table for the first time, with the launch of a premium powder – and Nestlé has similarly looked to capitalise with Starbucks Signature Chocolate.
Tea's woes
Hot choc's glowing fortunes are diametrically opposed to those of tea. The long-beleaguered sector sold 5.9 million fewer packs over the past year, as shoppers continued to turn their backs on the great British cuppa.
There are some exceptions to the decline. Most significant is Yorkshire Tea, which has maintained its title as sector leader after growing value by 3.4% on the back of volumes up by 7.2%. The brand credits that success to its quality – which is "what our customers have come to expect, and they trust us to deliver a proper brew no matter which Yorkshire Tea product they purchase" brand manager Lucy Jordan told The Grocer in September.
Overall, though, black tea is in trouble. Its fans "are getting older and will start to fall over, and that is the fundamental problem" warned Unilever CEO Alan Jope in January 2020. "Younger consumers are looking for novel experiences, and the consumer of 'builders' tea' was someone who was born out of habit and was not into experimentation and trying new products."
It's little surprise, then, that Unilever last month agreed to sell its tea portfolio, including PG Tips, for £3.8bn to CVC Capital Partners. Once the UK's top tea, PG has been in value decline for years, and has lost £8.4m in the past 12 months.
Still, its troubles haven't stopped it from innovating. In September, PG Tips completed its transition to being entirely plant-based, removing the outer plastic overwrap from its entire retail range. That followed the removal in 2020 of plastic wrap from its 160-pack retail boxes and roll-out of biodegradable bags made from corn starch.
PG Tips hasn't been alone in its sustainability efforts. Other tea brands have been eco-minded of late. Fortnum & Mason, for instance, made its own-label range plastic-free and home compostable in January, while Sainsbury's moved to plant-based packaging for its own-label teabags in the summer. The retailer also promised the bags would also be compostable by the end of the year.
Greenypeeps, meanwhile, has claimed to be the producer of the "world's first" carbon negative tea range. The move means it has removed over twice the carbon generated by each of its products, "leaving a net positive impact on the planet".
At Clipper Teas, marketing & category director Bryan Martins notes: "There are two major trends that have been influencing shopper decisions. The first is care for the environment, the second is care for individual wellbeing."
That second trend has led more people to seek out teas with "functional benefits," he adds. "Infusion teas are generally perceived to be good for you and are consumed more frequently. This, combined with its premium price point, put infusions in a good position to meet consumer demand for wellness."
So could the wellness cuppa soon overtake builders' brew?
Top Launch 2021
Nescafé Azera Craft | Nestlé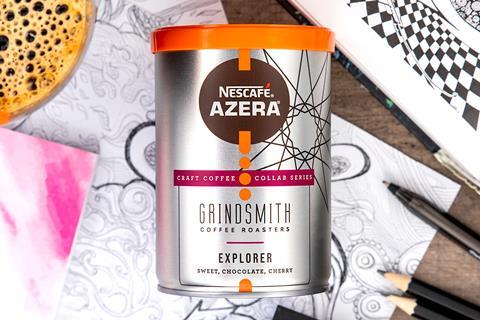 Instant coffee got posher in February with Azera Craft – "the first ever instant craft coffee to launch in the UK and Ireland" according to Nescafé. Made in partnership with Manchester coffee roaster Grindsmith, it uses arabica beans from Brazil and Colombia to offer a "rich flavour with notes of chocolate and cherry". Azera Craft (rsp: £5.49/80g) landed at the same time as its My Way Latte – a customisable instant latte that offers "quality and convenience".