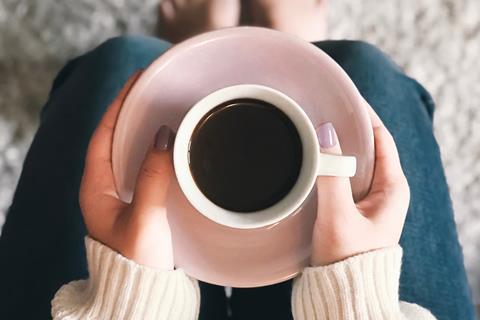 There's a head of steam building in hot beverages. Market leader Nescafé has had £16.4m wiped out as drinkers switch to pricier instant and ground coffee in pods and bags. Meanwhile, a battle is brewing between L'Or and Carte Noire as old rivalries simmer; and PG Tips has lost its place as Britain's bestselling black tea. And that's just three of the dramas unfolding.
They're all connected by the ongoing move to posher cuppas. Nescafé has suffered the greatest loss in hot beverages, with sales declining 4.1% to £385.9m on volumes down 1.2%. Key factors are growth in premium instant coffees such as L'Or and Carte Noire, and booming sales of ground coffee brands such as Taylors of Harrogate and Lavazza.
"With premium instant coffee products now becoming more accessible through aggressive promotions, Nestlé's traditional granules range has taken the brunt of the hit, pushing them into decline," explains Nielsen senior client analytics executive Robin Tahiri. "However, some losses have been recovered through its popular Azera range."
Azera, sales of which are included in Nielsen's read of the Nescafé parent brand, has been a key focus over the past year. As well as being the subject of fierce deals – 100g of its key instant lines have been selling for £3 in Tesco, down from £5.49 – it's been given a new look. In July, it launched into the format of the moment: coffee bags.
It's not just Azera that's shouting about this format. "Coffee bags continue to be one of our star performers," says Kelly Wright, senior brand manager at Taylors of Harrogate Coffee, the year's fastest-growing ground coffee brand. Sales are up £5.7m (12.8%) on volumes up 11.1%.
Coffee bags are "now available in most major supermarkets, and Taylors is the leading brand in this format, having grown by 80% year on year, with 52% value share" Wright adds.
"We're really pleased they're so loved by consumers. Many are trading up from instant when searching for a more convenient alternative to roast & ground coffee without the need to compromise."
So, price is playing an increasingly important role in stopping shoppers going elsewhere. See Carte Noire. It's been running regular half-price deals in a bid to steal sales from hot rivals such as Azera, Kenco and L'Or.
Plus, Carte Noire and L'Or have history. Jacobs Douwe Egberts launched L'Or in 2017, after being forced to sell the Carte Noire brand by competition authorities as a condition of its merger with Mondelez. With Carte Noire all but gone from the UK, L'Or was able to take advantage. Its instant and ground lines are now worth £53m, having grown 20.9%, representing the greatest absolute gain in hot beverages this year.
The stark similarities between L'Or and Carte Noire – French names, prices and black and gold livery – were not lost on consumers. "First they mess with the brand name and then they fiddle with the size of the jar," complained one unhappy correspondent on ThisIsMoney.co.uk in 2017.
Now Carte Noire's back – relaunched by new owner Lavazza. Since returning to the UK in summer 2018, backed by a £3.5m campaign, it's amassed £7.2m. That makes it the year's fastest-growing instant coffee brand. It's also looking to recoup sales in ground coffee and pods, where L'Or is worth £12.8m and growing at a rate of 62.8%.
"L'Or built on the success of its award-winning instant coffee range with a premium Nespresso-compatible capsule offering," says Tahiri at Nielsen. "It was one of the first to take advantage of Nespresso's capsule patent loss, and this has paid dividends."
As Tahiri suggests, pods are a key battleground. They remain a key area of growth in ground coffee, despite the two biggest brands – JDE's Tassimo and Nestlé's Dolce Gusto – losing £3.6m and £6.3m respectively.
These losses are primarily the result of growing competition. Costa, for example, has hit sales of £4.6m following last year's launch of its pods compatible with Tassimo, Dolce Gusto and Nespresso machines.
More shoppers are going to the discounters for pods, too. "Since launching our award-winning Nespresso-compatible pods in January 2018, we have secured over half of the private-label market," Aldi MD for buying Julie Ashfield told The Grocer earlier this year. "Our Dolce Gusto-compatible products, which were introduced towards the end of last year, have been incredibly successful in driving incremental growth."
All this is leading to changes in shelf space allocation in the supers, which is reflected in hot chocolate and tea suffering respective volume declines of 7.5% and 2.8%. "Space for coffee has been growing for some time due to exciting new product development," says Tahiri. "Tea continues to suffer distribution declines, and it seems shoppers are losing interest."
That one of the fastest growers in the entire category is a brand that makes only 'proper' black tea might therefore come as a surprise. Yorkshire Tea's sales are up 8.3% (£7.7m) on volumes up 5.5%. All this in a tea market that's grown by just 0.4% in value.
"While it's true that black tea consumption has reduced, there's still a huge base of drinkers who love a proper cup of tea," says Yorkshire Tea brand manager Lucy Jordan. "While coffee drinkers' buying habits are led by format, Yorkshire Tea drinkers are buying on quality and are therefore prepared to pay that little bit more for a proper brew."
Yorkshire Tea fetches an average of £3.17 a pack (52p more than brands' average), suggesting shoppers do indeed see it as worth paying more for. Jordan says TV ads (the latest star Sean Bean and magician Dynamo), a redesign, and Speciality Brews are helping to maintain shoppers' esteem for the brand.
"Sales of Yorkshire Tea Speciality Brews have grown by 56.5% in the past year, contributing more than £1.8m and placing them at number three in the [speciality black tea]category," adds Jordan. "They're aimed at tea lovers who enjoy a proper brew but have needs that are currently unfulfilled by standard black tea."
The lines stand out, given that many recent tea launches seem very far removed from an old-fashioned cuppa. Nielsen's Tahiri points to Twinings' 2018 launches Cold In'Fuse and Superblends as important, non-traditional recent launches. "They're driving growth in an otherwise declining tea market."
Never mind that most Cold In'Fuse lines – designed to be dropped in bottles of cold water – don't actually contain tea. The range includes Rose Lemonade and Watermelon, Strawberry & Mint infusions, which use apples, hibiscus and rosehips as key ingredients, though other lines do list green tea as a major ingredient.
The products fetch more than 30p per bag versus around 5p per bag for Twinings Everyday. They have buoyed the brand's value by 2.2% to £107.5m, though volumes have dipped 1.2%. They've also inspired similar launches such as Lipton Real Iced Tea.
"There's a huge amount of growth potential in tea," says Hazel Detsiny, VP for marketing for foods & tea at Lipton brand owner Unilever, "which is why we're concentrating on unlocking it with innovation in areas such as premium loose-leaf teas, decaf and dairy-free and the launch of the UK's first and only cold brew teabags made using real tea leaves."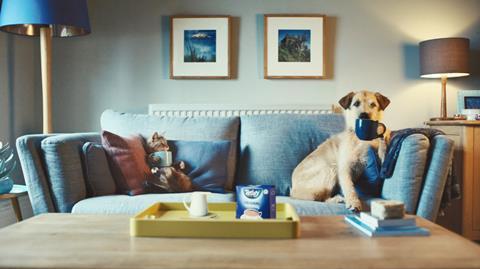 With consumption of traditional sugary fizzy pop flattening, many players see a bright future for cold tea. "Tea should be looking to excite shoppers again, and the cold category has started to do this," says Tahiri. "More brands are now competing for a piece of this pie, with Teapigs the latest brand to jump on this trend."
It's partly a question of demographics, says Peter Dries, director of customer & shopper marketing at Tetley and Tea Pigs owner Tata Global Beverages.
"Younger drinkers are looking for new tastes and experiences from tea, so it's important for retailers to get their mix of tea right and keep the offerings fresh and exciting," he says. "Developing products that attract younger audiences to the category is an important strand to our product development programme."
As shelf space for tea continues to get squeezed, value black tea brands are suffering most. Typhoo has suffered tea's second-greatest loss, down £3.5m (34.7%) on volumes down 36.5%. Only PG Tips has lost more: £5.6m (5.4%) on volumes down 7.4%.
Unilever believes increased focus on decaffeinated, dairy-free and loose-leaf teas will revive PG. "In the past year, PG Tips has helped brew over seven billion cups of tea in the UK alone, more cups of tea than any other tea brand," adds Detsiny. "This is testament to the special place it has in Britons' hearts."
In the current climate, it will have to work hard to keep that place.
The Top Products
In association with nielsen
Top 10 Instant coffee
£m
change (£m)
change (%)
Total Category:
726.0
-17.3
-2.3
Total volume change:
0.6%
Total Own Label:
74.9
-6.8
-8.3
This year's rank
Last year's rank
Brand
Manufacturer
£m
change (£m)
change (%)
1
1
Nescafe
Nestle
385.9
-16.4
-4.1
2
2
Kenco
Jacobs Douwe Egberts
138.4
2.5
1.8
3
3
Douwe Egberts
Jacobs Douwe Egberts
43.6
-4.7
-9.6
4
4
L'Or
Jacobs Douwe Egberts
40.2
4.2
11.7
5
21
Carte Noire
Lavazza
7.9
7.2
1059.9
6
5
Percol
Food Brands
6.0
-1.3
-17.6
7
6
Lavazza
Lavazza
5.6
0.1
2.0
8
7
Mellow Birds
Jacobs Douwe Egberts
3.8
-0.1
-3.6
9
8
Maxwell House
Jacobs Douwe Egberts
3.1
-0.5
-13.9
10
10
Clipper
Clipper Tea
2.2
0.1
2.7
Top 10 Tea
£m
change (£m)
change (%)
Total Category:
561.3
2.5
0.4
Total volume change:
-2.8%
Total Own Label:
83.9
-1.2
-1.4
This year's rank
Last year's rank
Brand
Manufacturer
£m
change (£m)
change (%)
1
1
Twinings
ABF
107.5
2.3
2.2
2
3
Yorkshire
Taylor's Tea
100.3
7.7
8.3
3
2
P G Tips
Unilever
98.9
-5.6
-5.4
4
4
Tetley
Tata Global Beverages
89.7
-0.3
-0.4
5
5
Pukka
Unilever
22.8
3.1
15.5
6
6
Clipper
Clipper Tea
13.1
-0.5
-4.0
7
8
Teapigs
Tata Global Beverages
6.9
0.2
3.3
8
7
Typhoo
Apeejay
6.5
-3.5
-34.7
9
9
Tick Tock
Wistbray
4.6
0.5
12.2
10
10
Scottish Blend
Unilever
3.8
-0.1
-2.3
Top 10 Roast & ground coffee
£m
change (£m)
change (%)
Total Category:
394.4
13.7
3.6
Total volume change:
5.4%
Total Own Label:
86.5
1.0
1.2
This year's rank
Last year's rank
Brand
Manufacturer
£m
change (£m)
change (%)
1
1
Tassimo
Jacobs Douwe Egberts
87.7
-3.6
-3.9
2
2
Dolce Gusto
Nestle
55.6
-6.3
-10.1
3
3
Taylors Of Harrogate
Taylors Coffee
50.3
5.7
12.8
4
4
Lavazza
Lavazza
45.3
5.3
13.3
5
5
L'Or
Jacobs Douwe Egberts
12.8
5.0
62.8
6
7
Cafedirect
Cafedirect
8.8
1.6
21.3
7
9
Illycaffe
Illy
6.8
0.0
0.3
8
6
Starbucks
Starbucks
5.8
-1.7
-23.0
9
8
Cafepod
Cafepod
5.4
-1.8
-24.9
10
31
Costa
All About Food Ltd
4.6
4.4
2427.8
Top 10 Hot chocolate & malted drinks
£m
change (£m)
change (%)
Total Category:
124.1
-5.5
-4.3
Total volume change:
-7.5%
Total Own Label:
13.3
-1.8
-12.1
This year's rank
Last year's rank
Brand
Manufacturer
£m
change (£m)
change (%)
1
1
Cadbury
Mondelez
29.0
-1.6
-5.1
2
2
Options
Twinings
13.2
-0.4
-3.2
3
3
Horlicks
Aimia
12.7
0.3
2.5
4
4
Ovaltine
Twinings
9.8
-0.8
-7.7
5
5
Tassimo
Jacobs Douwe Egberts
7.8
-1.2
-13.2
6
6
Galaxy
Aimia
7.3
1.1
17.3
7
7
Cadbury Highlights
Mondelez
4.8
-0.2
-4.4
8
8
Cadbury Cocoa
Mondelez
4.2
-0.1
-2.2
9
10
Green & Blacks
Mondelez
3.9
0.2
5.4
10
9
Nescafe
Nestle
3.4
-0.7
-17.2
The Grocer's Top Launch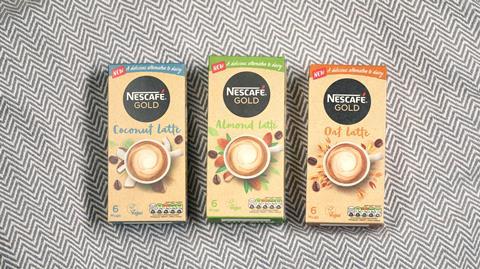 Nescafé Gold Plant-based Latte by Nestlé
Given the growing numbers of consumers ditching dairy and embracing a vegan diet, we couldn't ignore this trio of plant-based frothy coffee. Available in coconut, almond and oat, it's the world's first range of dairy-free instant latte, says Nestlé. The lineup – which is exclusive to Tesco until February 2020 – has received mostly positive reviews from vegan bloggers, suggesting Nestlé's latest foray into plant-based could be a successful one.