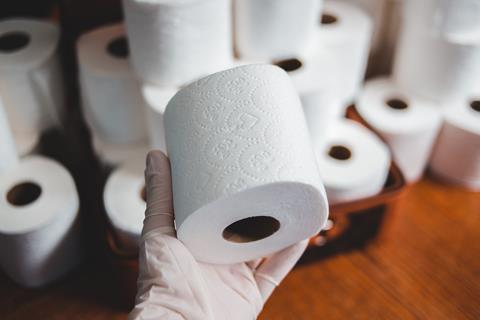 It's the image that defined pre-lockdown panic-buying: a shopper pushing a supermarket trolley brimming with toilet rolls.
So severe was the stockpiling, with shelves stripped bare, toilet paper manufacturers felt compelled to call for calm. A joint statement by the Confederation of Paper Industries and the Paper Industry Technical Association in early March assured Brits that "coronavirus has no impact (or likely impact) on the actual demand for toilet tissue and it follows there is no need to panic-buy or stockpile".
It made little difference. More effective was the move by supermarkets around the same time to ration toilet tissue.
"At its peak, the category was in 149% value growth, with strong volume growth also driven by increased occasions in home," says Nielsen client analytics executive Abigail Samuel.
Growth has since slowed, but it's still been enough to help grow toilet tissue's volumes by 6.6% over the year. That's an extra 186.4 million rolls – of which brands accounted for 159.8 million.
Indeed brands – and big brands in particular – were the biggest beneficiaries, with volumes up 12.4%, while value surged by 13.6%. By contrast, own label's unit sales and value were up just 1.7% and 1.4% respectively.
That's a reversal of last year, when private label outpaced costlier brands. But in 2020, price has been less of a concern for Brits. "Shoppers have leaned towards top brands in the category as they trust them in uncertain times," says Samuel. "This has helped Andrex and Cushelle grow, as they remain top of mind for shoppers."
In fact, those top two brands are worth an extra £49.2m between them. Cushelle's success – which includes a 21.4% rise in unit sales – was because owner Essity "reacted efficiently" to ensure "consistent supply on the shelf", Samuel adds.
It was no easy feat for Essity, though, according to communications manager, Gareth Lucy. "Toilet paper became the poster child for the panic-buying behaviour that took place back in March and April, and this put challenges on our supply chain," he says. "Whilst we produce 4.5 million toilet rolls per day, we couldn't get products to retailers as quickly as consumers were taking them off the shelf."
In response, Essity increased its output and deliveries, and launched a national PR campaign to reassure shoppers about supply.
Andrex owner Kimberly-Clark also ramped up production earlier this year, after supermarket orders doubled overnight, simplifying the Andrex product range in the process. As well as accelerating production of Andrex at its UK mills "just as importantly", a spokeswoman adds, "the number of delivery trucks to retailers was increased to ensure there was a steady supply of product", with 800 delivery trucks sent to stores in a single week in March, up from the typical 490.
Smaller brands
In terms of absolute value, the best-known brands in paper products were the biggest winners. However, the sheer weight of demand also presented opportunities for smaller operators agile enough to fill gaps in supply.
Take The Cheeky Panda. The sustainable SME has seen massive gains in toilet roll and facial tissue. It had previously found it "tough to break into mainstream retail" admits co-founder Chris Forbes.
"However, when larger suppliers couldn't handle the demand, we were able to supply. Within four weeks, we quadrupled our production and supported the likes of Tesco and Morrisons on the shortages.
"It put our products in the hands of hundreds of thousands of people and meant the brand adoption curve is at least 12 months ahead of where we were forecasting," with values and volumes more than doubling.
Cheeky Panda's growth in facial tissue was faster still, with volumes up 275.7%, helping the brand break into the sector's top 10.
Forbes is optimistic about further success. "Now we have proven our ability to scale fast, the buyers don't see us as such a risky proposition," he says.
Plus, with The Cheeky Panda products made entirely from bamboo fibres, it's also benefiting from "eco-trends", says Nielsen's Samuel.
It still has a long way to go, however, before it will catch leading brand Kleenex, which added £15m in extra sales.
Somewhat surprisingly, however, tissue sales fell overall in volume terms, by 3.7%, as consumers worked through their stockpiles.
A similar fate befell nappies, where even the market leader was a casualty. Pampers lost £8.6m in sales and appears to have been caught up in a wider malaise as nappy volume sales slumped 6.5%. Brand owner Procter & Gamble points to falling birth rates.
It was better news for kitchen towel sales. The category's not as big as toilet paper, but sales rose 12.8% and volumes were up 6.8%. And once again the leading brands cleaned up, with Plenty adding an extra £19.5m in sales and challenger Regina putting on £13.6m.
Top Products 2020
Top 5 Toilet Tissues
£m
£ change
%
Total volume change:
6.6%
Total Category:
1192.7
82.3
7.4
Total Own Label:
566.6
7.6
1.4
This year's rank
Last year's rank
Brand
Manufacturer
£m
change (£m)
change (%)
1
1
Andrex
Kimberly-Clark
367.2
28.1
8.3
2
2
Cushelle
Essity
114.0
21.1
22.7
3
3
Velvet
Essity
24.6
-1.4
-5.5
4
4
Petal Soft
Intertissue Ltd
18.3
0.0
-0.2
5
5
Nicky
Sofidel Uk
13.3
3.0
28.8
Top 5 Nappies
£m
£ change
%
Total volume change:
-6.5%
Total Category:
283.3
-6.7
-2.3
Total Own Label:
98.1
0.6
-0.7
This year's rank
Last year's rank
Brand
Manufacturer
£m
change (£m)
change (%)
1
1
Pampers
P&G
175.0
-8.6
-4.7
2
3
Rascal + Friends
Rascal + Friends
4.1
2.7
196.7
3
2
Naty
Naty Ab
3.5
-0.3
-9.5
4
5
Happy Shopper
Booker Belmont
0.9
0.1
12.4
5
4
Kit & Kin
Kit & Kin
0.8
-0.2
-19.5
Top 5 Kitchen Towels
£m
£ change
%
Total volume change:
6.8%
Total Category:
418.5
47.7
12.8
Total Own Label:
165.7
6.0
3.7
This year's rank
Last year's rank
Brand
Manufacturer
£m
change (£m)
change (%)
1
1
Plenty
Essity
106.8
19.5
22.3
2
2
Regina
Intertissue
98.3
13.6
16.1
3
3
Nicky
Sofidel
3.8
0.5
13.6
4
4
Happy Shopper
Booker Belmont
2.1
–0.2
–10.2
5
NEW
Mighty Big
Accrol Papers
2.1
2.1
–
Top 5 Facial Tissues
£m
£ change
%
Total volume change:
-3.7%
Total Category:
221.0
11.6
5.6
Total Own Label:
87.6
-3.8
-4.2
This year's rank
Last year's rank
Brand
Manufacturer
£m
change (£m)
change (%)
1
1
Kleenex
Kimberly-Clark
126.6
15.7
14.1
2
5
Cushelle
Essity
1.1
0.5
76.5
3
2
Handy Andies
Essity
0.9
–0.1
–9.7
4
4
Happy Shopper
Booker Belmont
0.7
0.0
13.7
5
6
Euro Shopper
Booker Belmont
0.6
0.0
5.2
The Grocer's Top Launch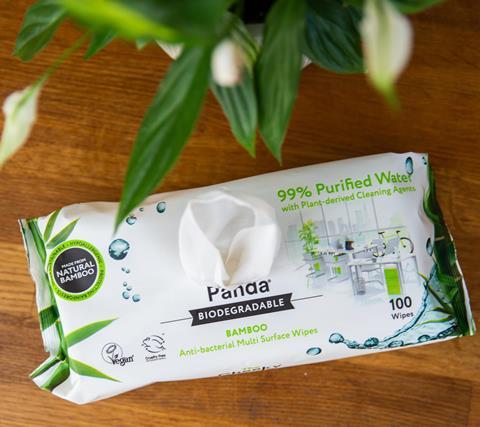 Anti-Bacterial Wipes, The Cheeky Panda
With hygiene top of everyone's priorities this year, The Cheeky Panda's Anti-Bacterial Multi-Purpose Wipes could hardly have been better timed. Unveiled in February, the wipes feature plant-derived cleaning agents and are made from 100% virgin pulp bamboo. That means they're compostable, biodegradable and fully recyclable through household collection. Listings at Booths, Robert Dyas, Planet Organic, Whole Foods Market, Ocado, Amazon, Milk & More and over 500 independent retailers sealed their fate.