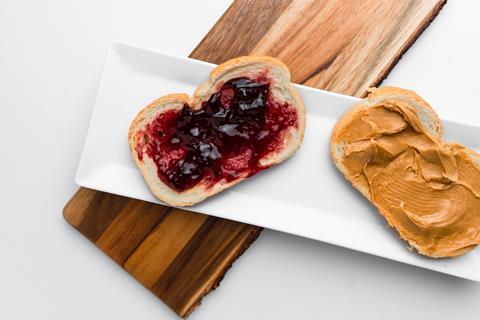 Spreads and jams are showing off. With volumes sales dipping into the red for the first time in years, brands are splashing out on marketing and promotional activities.
Take Rowse. It's the spreads sector's top name and fastest grower, up 5% in value on volumes up 5.1%. This has been achieved through "continued and significant investment" claims the brand's marketing manager, Catherine Allen.
She points to use of featured space promotions (sales on deal are up 12.8%) and a £4m push "to celebrate the natural wonders of honey".
"Honey has the broadest versatility among spreads, over-indexing in host foods chosen for health benefits, such as porridge and yoghurt" says Allen.
Like Rowse, peanut butter brands and spreads' second bestseller, Nutella, have been trumpeting their adaptability to widen usage. Whole Earth and Meridian, for example, are positioning their products for use as dips and cooking ingredients.
And Nutella's "versatility means there are many different ways to enjoy it, making it the ideal addition to multiple breakfast options beyond toast" says Levi Boorer, customer development director at the brand's owner Ferrero.
In jam, market leader Bonne Maman has adopted similar tactics. Having launched a range of breakfast compotes for use in yoghurts in 2018, it kicked off digital activity to push recipes ranging from mulled cider to butter pudding. It's up £1.1m (3.8%) on volumes up 2.6% – the only significant gains in jam's top 10.
The decline of bread goes some way to explain its activities. Yet bread is bought by 97% of households, so still represents a huge slice of spreads' use.
Boorer insists secondary sitings in the bread aisle are crucial to Nutella, which has seen value sales slip by 2.4% in the face of growing competition from new rivals including M&M's, Galaxy and Gü Puds.
An image of toast covered in an unusually dark nutty spread was how Unilever heralded the launch of Marmite Peanut Butter in March (see below). It went on to help Marmite drive a 4.2% gain on volumes up 1.7%.
Meanwhile, peanut butter brands Whole Earth and Meridian are down 6.1% and 0.8% respectively. Bryan Martins, marketing director at Whole Earth owner Wessanen, says this is, in part, because "shelf space is becoming increasingly squeezed for all brands as the category becomes more crowded".
But he adds that Whole Earth sales picked up in 2019's later months thanks to "a large-scale out-of-home campaign".
The Top Products
In association with nielsen
Top 10 Spreads
£m
change (£m)
change (%)
Total Category:
328.6
1.4
0.4
Total volume change:
-0.30%
Total Own Label:
100.1
-1.6
-1.6
This year's rank
Last year's rank
Brand
Manufacturer
£m
change (£m)
change (%)
1
1
Rowse
Rowse Honey
54.0
2.6
5.0
2
2
Nutella
Ferrero
48.4
-1.2
-2.4
3
3
Marmite
Unilever
31.5
1.3
4.2
4
4
Whole Earth
Wessanen
21.0
-1.4
-6.1
5
5
Sun Pat
Hain Celestial
18.6
0.9
4.8
6
6
Meridian
Meridian Foods
12.8
-0.1
-0.8
7
7
Bovril
Unilever
7.2
0.0
-0.6
8
8
Princes
Princes
5.1
0.0
0.6
9
9
Heinz Sandwich Spread
Kraft Heinz Co
3.2
-0.1
-3.5
10
10
Cadbury
Mondelez
2.7
-0.2
-5.8
Top 10 Jams & marmalades
£m
change (£m)
change (%)
Total Category:
139.9
-0.9
-0.6
Total volume change:
-0.6%
Total Own Label:
49.0
-0.3
-0.5
This year's rank
Last year's rank
Brand
Manufacturer
£m
change (£m)
change (%)
1
1
Bonne Maman
Andros
29.0
1.1
3.8
2
2
Hartley's
Hain Celestial
16.2
-0.4
-2.2
3
3
Tiptree
Wilkin & Sons
8.1
-1.0
-10.9
4
4
Robertson's
Hain Celestial
7.6
-0.4
-4.5
5
5
Mackays
Mackays
7.2
-0.1
-1.1
6
6
St. Dalfour
St. Dalfour
5.8
0.1
1.5
7
7
Frank Coopers
Hain Celestial
5.1
-0.1
-2.6
8
8
Roses
Hain Celestial
2.3
0.0
-0.7
9
9
Streamline
Wolco
1.5
0.0
-1.3
10
10
Stute
Stute
1.5
0.0
0.6
The Grocer's Top Launch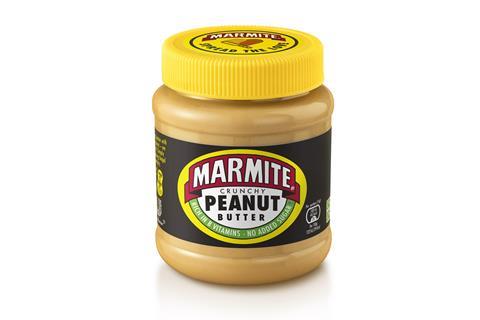 Marmite Peanut Butter by Unilever
Peanut butter fans have long been mixing their favourite spread with the UK's bestselling yeast extract. (Consensus is that the result tastes similar to dry roasted peanuts.) So, it might be surprising that Marmite took so long to cash in, given the brand had been struggling for a number of years. Not anymore. It has seen sales grow 4.2% on volumes up 1.7%, thanks in part to this launch, which comprises 90% crunchy peanut butter, 10% yeast extract and no palm oil or added sugar.