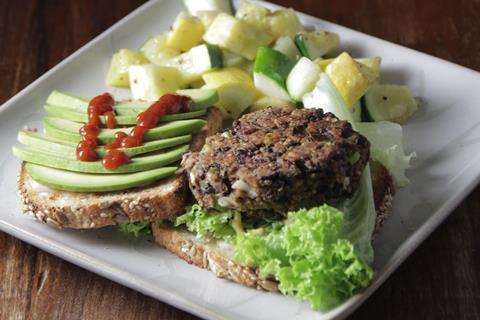 There's no stopping the plant-based boom. Buoyed by a series of high-profile calls for meat reduction and a glut of NPD, the category has become very much "a movement not a trend", vegan entrepreneur Heather Mills told The Grocer in November.
That much is showing in the numbers. The meat-free category is now worth £404.9m, following a 18% jump in value and 13.6% rise in volumes.
All areas of the category are making gains. In the case of own label, sales rose an impressive 22.3% to £70.1m as retailers made a renewed push to appeal to meat-dodging consumers.
Tesco continued its plant-based onslaught with extensions to its Wicked Kitchen range, followed by the launch in September of "affordable" plant-based lineup Plant Chef. There were also new lines from the likes of Waitrose, Asda, Morrisons and Aldi – the latter of which launched its I Am Vegan brand in July, before relaunching and expanding it as Plant Menu in December.
Meanwhile, Iceland is continuing to reap the rewards of its exclusive No Bull brand, now worth £3.1m in its own right.
But the biggest numbers in the market came from brands. Over the past year, the value of branded lines has shot up 17.2% to £334.9m. And the established players were the driving force behind that £49.1m increase. Quorn, for example, made the highest absolute value gain – £8.9m. That was down to a continued focus on innovation.
Perhaps most high-profile launch for the brand was Greggs' new vegan sausage roll – made with a Quorn filling – which hit stores in January. The product helped to "reinforce the mainstream positioning of Quorn and introduce new consumers to the category, in or out of the home" says Quorn MD Alex Glen.
That was just the start of the brand's NPD drive. In April, it added a range of seafood alternatives that made it "the UK's only meat-free supplier providing meat-free alternatives for the UK's top five family meal occasions, including fish & chips" says Glen.
Just one month later, Quorn made a move into ambient with the launch of grain-based snack pots containing shelf-stable meat alternatives. And in August, the meat-free giant unveiled its first-ever branded sandwich and wrap range with Adelie.
Rival brand Linda McCartney's has similarly made gains by focusing on new products. Its sales rose 11.7% to £50.4m on the back of NPD including pea protein sausages, a vegan southern-style chicken alternative, vegan fishcakes and, most recently, a range of Christmas-themed products including a vegetarian roast.
Meanwhile, Vivera saw sales leap £8.2m to become the fourth-largest brand on this list. That was boosted by a revamp of its packaging and listings across the big four. The diversity of Vivera's range means shoppers "have the opportunity to keep coming back for more great taste and texture for their meat alternatives" says CEO Willem van Weede.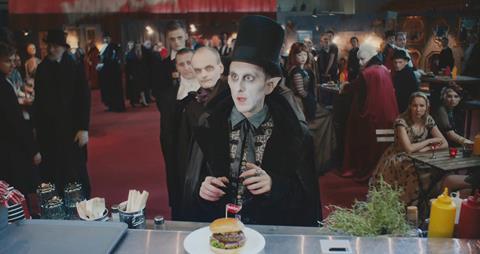 In this booming market, losses are few and far between. The only brand in the top 20 to suffer a fall in sales was Quorn's sister brand Cauldron. It is down 4.1% to £27.5m despite "investing significantly this year to drive category growth".
Increased competition was one likely factor. Tofu is a large part of the Cauldron business. And as Cauldron suffered a slump, The Tofoo Co saw sales climb 63.3% to £8.5m. The company claims it is now the UK's largest seller of tofu, which it believes is an area of "huge potential".
While many brands are "focused on meat replacements", tofu could become a £100m category in its own right, suggests Tofoo Co co-founder & MD David Knibbs. "Annual UK tofu penetration is still modest at only 4%, with annual meat-free penetration at 24%, so there is loads of room for natural growth," he adds. "We don't copy meat because tofu stands firmly on its own two feet."
Similarly to The Tofoo Co, many of the brands on this list are making gains without going down the fake meat route. Take Heck, which more than tripled its sales of its veg-based sausages this year, rising from 18th to 14th largest brand.
"So much investment has gone into fake meats, but our plant-based offering has really struck a chord and I can see vegan being the majority of our business in five years," said Heck co-founder Jamie Keeble after the launch of a vegan range into Holland & Barrett freezers in October.
Bol Foods is taking a similar tack. Its plant-based range, made without any meat alternatives, shot up 33.3% in value after the launch of its chilled dinner box range in January. And Strong Roots has doubled sales of its veg-based frozen fare.
Still, there seems to be plenty of appetite for substitute burgers, sausages and mince. High-profile newcomers The Meatless Farm Co and Beyond Meat flew straight into the top 20 brands this year, racking up £1.7m and £1.6m respectively in less than a year.
That rate of growth shows no sign of slowing. The Meatless Farm Co launched into Sainsbury's in 2018, and is now also available in Morrisons, Whole Foods Market and foodservice operators such as JD Wetherspoon, while expanding into the US market.
Meanwhile, Beyond Meat looks set to enjoy a further boost after the UK launch of the Beyond Sausage in September. The US brand also trademarked the term Beyond Mince in November and is building a factory in the Netherlands – its first in Europe.
The Vegetarian Butcher is another meat alternative brand making its mark. Sales more than tripled to £981,000 after its acquisition by Unilever last autumn. In November, the brand landed a supply deal with Burger King in Europe.
Unilever has big plans to develop The Vegetarian Butcher in the UK, according to VP for marketing in foods & tea Hazel Detsiny. The goal is for meat fans to "realise they don't have to miss out on anything if they take animal meat out of their diet" she explains.
It's a message that's being echoed by the growing number of meat brands entering plant-based. Kerry Foods, which launched its Naked Glory meat alternative brand and a meat-free Richmond variant in September, says it's well placed to succeed in the market.
"It's vital for retailers to provide meat-free options that cater to shoppers following different diets," says Kerry Foods marketing director Dawn Spencer. "We have a deep understanding of the meat industry, and this puts us in the best position to create a range that effectively mimics the taste of meat."
Similarly, Birds Eye landed a Top Launch accolade this year with the Green Cuisine meat alternative range – which has picked up sales of just under £1m since its launch in March. It looked to boost that with the launch of a big-budget, vampire-themed campaign in July.
Yes, the vampire trend is a little last season. But if there's one thing these numbers show, it's that the vogue for plant-based shows no sign of falling out of fashion.
The Top Products
In association with nielsen
Top 15 Meat free
£m
change (£m)
change (%)
Total Category:
404.9
61.9
18.0
Total volume change:
13.60%
Total Own Label:
70.1
12.8
22.3
This year's rank
Last year's rank
Brand
Manufacturer
£m
change (£m)
change (%)
1
1
Quorn
Marlow Foods
182.0
8.9
5.1
2
2
Linda Mccartney
Hain Daniels
50.4
5.3
11.7
3
3
Cauldron
Marlow Foods
27.5
-1.2
-4.1
4
7
Vivera
Vivera
12.1
8.2
212.8
5
4
The Tofoo Co.
The Tofoo Co.
8.5
3.3
63.3
6
6
Bol
Bol Foods
6.3
1.6
33.3
7
11
Fry'S
Fry's
5.6
3.8
211.2
8
5
Gosh!
Gilberts
5.2
0.1
1.4
9
10
Strong Roots
Handy Food Innovation
4.2
2.2
109.3
10
14
No Bull
Primel Gastronomies
3.1
2.1
220.2
11
8
Taifun
Life Food
2.8
0.2
6.9
12
9
Goodlife
Goodlife Foods
2.5
0.0
1.9
13
15
Tofurky
Turtle Island
2.1
1.3
160.8
14
18
Heck
Heck Foods
2.1
1.5
229.8
15
13
Oumph!
Food for Progress
1.7
0.6
58.8
The Grocer's Top Launch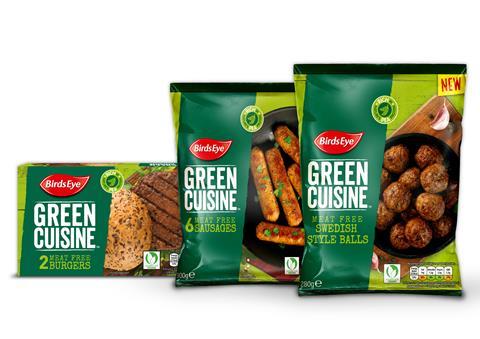 Green Cuisine Birds Eye
Birds Eye hopes its pea protein-based Green Cuisine will tap the "mass consumer appeal" of the plant-based category. The family-friendly range, which landed in freezers in March, comprises Sausages, Swedish Style Balls and Burgers – all promising lower levels of fat than their meaty equivalents in Birds Eye's stable. Early response from shoppers has been promising. In its first six months, Green Cuisine's sales in grocery were a beefy £945,000.