Sugar-shy Brits remained suspicious of anything too sweet in 2018. Sales of jams and marmalades were down 0.6% overall, leaving the 10 leading brands facing a collective £2.2m loss in value.
It's a decline that would have been much worse had it not been for market leader Bonne Maman bucking the trend. The French preserve appears to have cut through all the critique to win a kind of cult-like status (supermodel Bella Hadid reportedly has a jar in her fridge). Developing a PR-friendly brand personality also seemed to pay off for fellow outlier Rowse. While rival honey brands struggled, it managed to add £1.4m in sales, leveraging perceptions of honey as a natural source of sweetness and campaigning for real manuka honey.
Sweet preserves should be under no illusion, though. These were the exceptions to the rule - a rule that placed nut butters firmly on top, taking up four of the top six spots in our spreads category. Notably, that included Nutella, whose 50% sugar content didn't stop it netting an extra £1.2m as it capitalised on new consumption opportunities such as Pancake Day, Christmas and back to school. So successful is the spread that pasta brand Barilla is reportedly readying the launch of a sunflower-oil-based rival soon.

Nutella aside, the wider growth of nut butters in the UK seems largely driven by the highly photogenic wellness trend. As such, many more brands have begun diversifying into new, Instagram-chic nuts such as cashews, almonds and roasted peanuts. By doing so, brands aim "to highlight the versatility that nut butters have," says Meridian Foods head of sales Darren Robinson. Others, such as our Top Launch, have gone down the sports nutrition route.

Though with that higher profile comes more competition for consumer spend. Does that make it tougher? "The ever-increasing positive noise is a very good thing," insists Kirstie Hawkins, brand controller at Whole Earth owner Wessanen UK. "There continues to be considerable growth in the category, which we welcome - more activity from competitors means more consumers are having the opportunity to join the category and in turn discover Whole Earth."

Next to court the healthier consumer will be savoury spreads. Sales of Marmite and Bovril both dipped, something Unilever hopes to tackle with its new low-salt varieties. "Although original Marmite can be enjoyed as part of a balanced diet, our Marmite 25% Reduced Salt appeals to fans looking to manage their daily intake of salt," points out Andre Burger, vice president for foods at Unilever UK.
TOP LAUNCH
---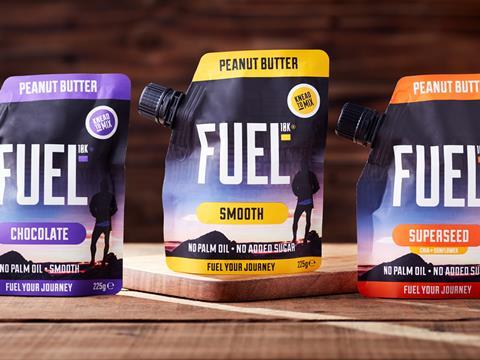 Fuel10K Nut Butter pouches, Fuel10K
On-trend protein brand Fuel10K ventured beyond cereals this year with a three-strong lineup of nut butter pouches. Launched in February, the 225g resealable pouches (rsp: £2.39) respond to Brits' insatiable appetite for nut butter, convenient on-the-go snacks and – of course – protein. Available in three variants – smooth, superseed and chocolate – each pouch has around 30g of protein per 100g, no palm oil and only the chocolate option comes with the added sweetness of coconut sugar.