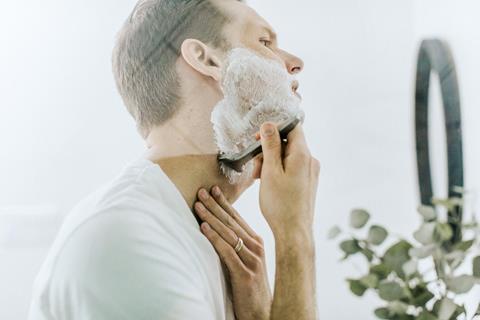 The 2021 World Beard & Moustache Championships have been postponed until 2023. That's a shame, because next year could have seen a strong showing from the UK. It's currently a nation of hirsute faces. The pandemic is why.
While men's pre-virus attitude to being clean shaven was pretty lax, lockdown greatly strengthened that indifference – and hurt the shave market as a result, notes Ben Hanson, senior analyst at Nielsen.
"With Covid-19 shutting down offices and reducing time spent out of home, the male grooming category saw a significant and immediate impact," he says.
That impact is borne out in the numbers. Razors & blades shifted 5.4 million fewer units over the past 12 months, while 3.8 million fewer packs of shaving preparations went through tills. That's meant a loss of £29.4m across the two sectors in supermarkets, pharmacy chains and the like.
Seasoned players Gillette and Wilkinson Sword have driven the decline, with a loss of £30m between them, but challengers have bucked the downward trend. Harry's, for instance, "has been a key brand that has seen strong growth this year" Hanson points out. Having made its high street debut in April 2019, the US brand has sold £6.4m of shaving products following a series of new listings.
Bulldog has also seen growth in razors & blades. In fact, the brand has had "an exceptionally positive year, despite the obvious complexities and changes" insists general manager Caroline Mallet.
Granted, the £260k it added in shave has been wiped out by a £500k loss in skincare. Nevertheless, Mallet is bullish, pointing to the gains Bulldog made from beard care products and online sales.
Other brands have also enjoyed success on these fronts. "Sales from our three websites have grown by over 200% and now account for 15% of our total sales," says Hawkins & Brimble CEO Stephen Shortt, who confirms "beard care has made a resurgence".
The trend has led to The Bluebeards Revenge experiencing "a great deal more engagement from our fans" says its marketing head, Bradley Wicks. One-to-one communication with wearers of beards and fancy moustaches "really allowed us to match our customers with the right products for their style from across our range".
Top Products 2020
In association with Nielsen
Top 3 Men's Skincare
£m
£ change
%
Total volume change:
-2.5%
Total Category:
54.1
-3
-5.3
Total Own Label:
1.7
0.0
-4.4
This year's rank
Last year's rank
Brand
Manufacturer
£m
change (£m)
change (%)
1
1
L'Oréal Men Expert
L'Oréal
19.1
–0.7
–3.4
2
2
Nivea Men
Beiersdorf
16.4
–1.2
–6.7
3
3
Bulldog
Edgewell
9.9
–0.5
–4.8
Top 5 Razors & Blades
£m
£ change
%
Total volume change:
-14.1
Total Category:
195.6
-24.7
-11.2
Total Own Label:
8.1
-1.2
-12.5
This year's rank
Last year's rank
Brand
Manufacturer
£m
change (£m)
change (%)
1
1
Gillette
P&G
145.9
–20.7
–12.5
2
2
Wilkinson Sword
Wilkinson Sword
22.4
–4.4
–16.3
3
3
Philips
Philips
6.5
–1.8
–21.6
4
4
Bic
Bic
5.8
–0.7
–10.7
5
5
Harry's
Harry's
5.4
3.9
252.0
Top 5 Men's Shaving Preparations
£m
£ change
%
Total volume change:
-14.1%
Total Category:
45.1
-4.7
-9.4
This year's rank
Last year's rank
Brand
Manufacturer
£m
change (£m)
change (%)
1
1
Gillette
P&G
25.2
–2.2
–7.9
2
2
Nivea Men
Beiersdorf
9.7
–0.8
–7.2
3
3
King of Shaves
King Of Shaves
2.2
–1.1
–32.7
4
5
Harry's
Harry's
1.0
0.7
302.9
5
4
Palmolive
Colgate
0.5
–0.2
–24.0
The Grocer's Top Launch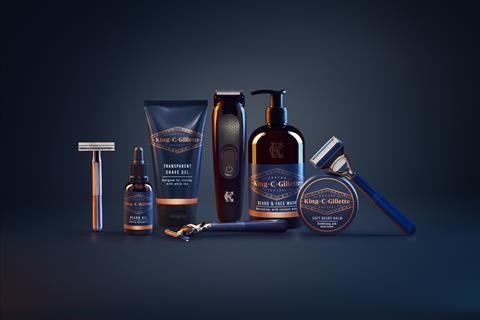 King C Gillette, P&G
This 11-strong range was well timed. Added in May as the beard trend boomed, it includes an electric beard trimmer, beard & face wash, beard oil and a neck razor. Within weeks of launch, it accounted for 20% of sales from Gillette's online store. The retro-inspired lineup is named after King Camp Gillette, the US entrepreneur who popularised safety razors at the turn of the 20th century. No wonder it also has lines for the clean-shaven, including the chrome-plated Double Edge Safety Razor.