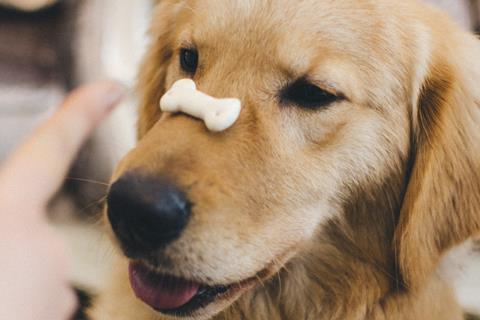 Dogs can't read. But that hasn't stopped DTC brand Tails.com producing a recipe book for pups. Published in October, 'The Happy Dog Cookbook' offers recipes for "healthy, easy-to-make nutritious treats".
For people not wanting to pull out pots and pans for their pooches, petfood brands are taking on the hard work. A growth in premium options has pushed the value of the petcare market up £22.1m, despite the UK's number of pet owners remaining static. And snacking has emerged as the latest focus.
"Treats are the fastest growing category in the sector right now," says Patrick Horton, commercial director at Forthglade.
Fastest growing of all (in absolute value) is Good Boy. It's up £13.9m due to "combining high-quality, tasty and enjoyable products with options that are low in fat, grain-free and high in protein" says Mike Love, marketing manager at brand owner Armitage Pet Care.
The snacking market has "significant" potential, believes Lucy McCarthy-Christofides, proposition & range head at Tails.com (of which Nestlé is a majority stakeholder). "The average pet owner now spends almost 50% of their food budget on treating, and demand is growing for high-quality treats that strike the right balance between taste and nutrition."
This taps the trend of pet owners "seeking to proactively manage their pets' health and wellbeing" says Helen Warren-Piper, general manager of Mars Petcare. The supplier has seen volumes for its Dreamies treats for cats dip 4.3% in the face of growing competition from trendier rivals – although increased average price means value is down just 0.3%.
But pricier snack packs alone won't be enough to support the overall category in the year ahead. Warren-Piper predicts that "future category growth will come from premiumisation driven by pet owners willing to increase spend on super-premium products, natural and scientific offers".
That's evidenced by ongoing decline of Mars' mainstream Pedigree brand, down £7.3m. Meanwhile, posh petfood pioneer Lily's Kitchen continues to climb the rankings with an average price more than twice that of any of petfood's big five brands.
But there is one challenge that applies to all brands regardless of their positioning. That is a buoyant own-label market, up £19.9m.
"Premiumisation is curtailed by the growth of private label, fuelled by a combination of price through greater reductions, and an increase in on-pack claims, apparently offering consumers similar benefits to branded SKUs," warns Liz Wood, Purina's marketing development organisation director.
"This has led to private label accounting for one in every five pounds spent on petfood in the UK."
The Top Products
In association with nielsen
Top 20 Petcare
£m
change (£m)
change (%)
Total Category:
1785.8
22.1
1.3
Total volume change:
-0.30%
Total Own Label:
356.9
19.9
5.9
This year's rank
Last year's rank
Brand
Manufacturer
£m
change (£m)
change (%)
1
1
Felix
Nestle Purina
243.4
0.4
0.2
2
2
Pedigree
Mars
172.7
-7.3
-4.0
3
3
Whiskas
Mars
156.9
-9.1
-5.5
4
4
Gourmet
Nestle Purina
88.2
-2.3
-2.5
5
5
Sheba
Mars
75.6
1.0
1.4
6
6
Bakers
Nestle Purina
73.1
0.3
0.4
7
8
Good Boy
Amitage Pet Care
69.7
13.9
24.8
8
7
Butchers
Butchers
54.6
-3.9
-6.7
9
10
Harringtons
Inspired Pet Nutrition
51.0
5.8
12.8
10
9
Go Cat
Nestle Purina
45.1
-2.6
-5.5
11
11
Winalot
Nestle Purina
43.6
2.3
5.4
12
12
Purina One
Nestle Purina
41.5
3.4
8.8
13
13
Webbox
Pets Choice
35.9
0.0
0.0
14
14
Cesar
Mars
33.4
-1.1
-3.0
15
15
Dreamies
Mars
31.4
0.1
0.3
16
17
Wagg
Inspired Pet Nutrition
28.2
-1.6
-5.4
17
16
Iams
Spectrum Brands
28.1
-2.6
-8.3
18
21
Lilys Kitchen
Lilys Kitchen
17.0
3.5
26.1
19
23
Naturo
Naturo Pet Products
16.1
5.7
54.0
20
19
Encore
MPM Products
15.8
0.5
3.0
The Grocer's Top Launch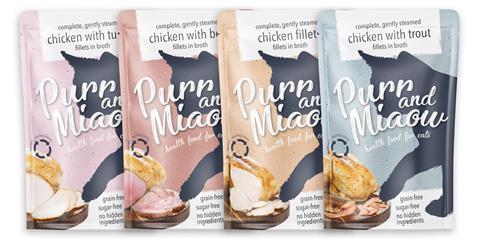 Purr & Miaow by Pooch & Mutt
In 2008, there was Pooch & Mutt, a healthy dogfood brand built via DTC. Then this year came its cat counterpart, Purr & Miaow, offering wet and dry meals with high meat content, no grain, and no artificial additives. The wet lines are also sugar-free – which is "a new industry standard" claims founder Guy Blaskey. Cats can't taste health-threatening sugar, but some brands add it "in the form of caramel, simply to make the gravy look browner" he warns. "We believe pets deserve better."