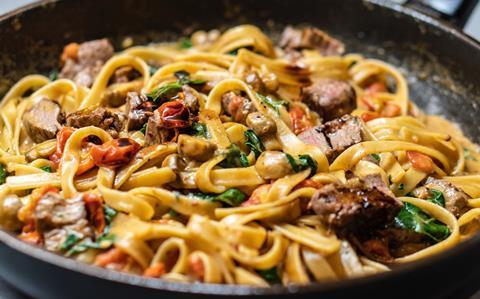 Just over a third of our plates should be occupied by starchy carbohydrates at mealtimes, according to NHS guidelines. And in the battle for that portion of Brits' plates, rice, noodles & pasta are winning the fight with the likes of potatoes and bread.
Combined sales are up 2.4% to £718.2m on 3.7% higher volumes. That's an extra 16 million packs sold, with volumes rising across all three sectors. By far the biggest gains are in rice, which added £13.1m in sales over the past 12 months.
"Rice is enjoying its sixth year of consecutive growth, with 88% of households now buying it regularly," says Harry Dulai. He's the MD of Surya Foods, owner of the Laila rice brand, which has achieved the fastest rate of growth in the category, up 30.8% on volumes up 34.4%.
"This has certainly been helped by the healthy profile of rice and its gluten-free credentials which has seen it become the king of the carbs," he adds. "It is also a natural beneficiary of wholefood and vegan trends, which continue to gain momentum."
Convenience has also played a part. Ready-to-heat rice pouches have been a key engine of growth, particularly for brands, in recent years. Now own label is making up for lost time, growing at a rate of 6.4% on volumes up 3.7%, thanks in part to a growing focus on pouched lines.
"Own-label is growing at a good rate, mainly due to ready-to-heat, but dry rice is also having an impact," says Anna Beheshti, brand lead at Tilda (which has seen value dip 0.4% on volumes up 1.5% in the past year).
"The growth in ready-to-heat is coming from most retailers with one or two exceptions. The factors driving this are increasing range and space in store, as well as the lower price point versus brands in the category."
It's a similar story in noodles. Kraft Heinz brand manager for Amoy Noodles (up 7.9% in value on volumes up 5.2%) Anke von Hanstein points to strong sales of its Straight to Wok range, which includes Udon and Thread Fine variants, as proof of growing demand for authentic foods that can be prepared with minimum hassle.
Other factors are at play, of course, such as growing adventurousness among shoppers – 17% of whom "are actively looking to try new and inventive Asian food" according to von Hanstein. "The ongoing increase in eating out has seen consumers continue to be more engaged with what they eat and also more interested in enjoying a range of ethnic cuisines," she says.
"Consumers returning from ethnic travel hotspots, such as Thailand and Bali, where street food dining is popular and noodle-based dishes feature on most menus, are driving this trend."
In pasta, it's value, not venturesomeness, that's a key driver of volume sales. With the discounters continuing to steal market share, the main mults are responding by pushing their budget own-label lines, which retail for as little as 20p for 500g.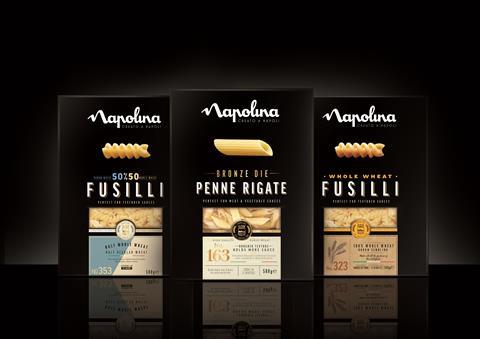 As The Grocer reported last month, the quality of some own label is such that it cannot be legally sold in Italy, despite being made there. This, arguably, is an opportunity for brands. "Pasta is an important component of an authentic Italian meal and, as such, people are prepared to pay a premium over and above own-label to ensure taste and quality is not compromised," says Neil Brownbill, commercial director at Napolina (up 0.5% value on volumes up 2%).
"One of the key strengths of the Napolina brand within pasta is the breadth of range offered that appeal to the younger, millennial demographic," he adds. "Innovative ranges such as 50%/50%, which delivers more fibre than regular pasta, have been followed up with new to market Organic Gluten Free Vegetable pastas."
So, brands in all sectors are having to fight harder to win a place in shoppers' baskets. Rather than promoting more on price, Tilda is doing this by spending more on pushing added-value new products, such as recent launches Peri Peri, Long Grain and Jasmine pouches, as well as the Super Grains sub-brand, says Beheshti.
Uncle Ben's (down 1.1% in value and 1.4% in volumes) has also been innovating to stave off the advances of own-label. It has redesigned its packaging, expanded its pouched range with Spicy Chilli and Smokey BBQ lines, and launched One Pot Rice Kits – meal kits containing rice, flavouring, herbs and spices in a range of exotic flavours.
"We're helping people create great tasting meals with minimal waste in three easy steps," says Ian Nundy, ready to heat marketing manager at Uncle Ben's owner Mars Foods.
Speaking of waste, ready-to-heat rice pouches can't be easily recycled. It's a factor that could drive more people away from the format – a situation suppliers are toiling to avoid.
"We are working hard to get a recyclable pouch on to the market as soon as we possibly can," Mars consumer & markets insight manager Liz Forristal told The Grocer in the summer. "Consumers are weighing up the convenience of pouches versus other factors. They're not yet voting with their feet."
The Top Products
In association with Nielsen
Top 10 Pasta
£m
change (£m)
change (%)
Total Category:
203.6
0.1
0.1
Total volume change:
3.20%
Total Own Label:
129.5
-2.3
-1.7
This year's rank
Last year's rank
Brand
Manufacturer
£m
change (£m)
change (%)
1
1
Napolina
Princes
33.1
0.2
0.5
2
2
De Cecco
De Cecco Fara Co
11.3
0.8
7.8
3
3
Barilla
Euro Food Brands
5.2
1.3
35.0
4
7
Pasta Reggia
Antonio Pallante
4.6
2.8
157.1
5
4
Marshalls
Pasta Foods
3.3
-0.1
-2.2
6
6
Garofalo
Pasta Garofalo
2.8
0.4
14.8
7
8
Rummo
Rummo
2.4
0.7
44.9
8
9
Happy Shopper
Booker Belmont
1.6
0.0
1.3
9
10
Seeds Of Change
Mars
1.4
0.4
34.2
10
5
Buitoni
Nestle
1.0
-2.4
-71.5
Top 10 Noodles
£m
change (£m)
change (%)
Total Category:
39.8
3.5
9.6
Total volume change:
4.90%
Total Own Label:
10.8
0.4
3.6
This year's rank
Last year's rank
Brand
Manufacturer
£m
change (£m)
change (%)
1
1
Amoy
Kraft Heinz Co
8.5
0.6
7.9
2
2
Sharwoods
Premier Foods
7.9
0.7
10.0
3
3
Blue Dragon
AB World Foods
4.4
0.3
6.0
4
4
Mama
Thai President
2.1
0.2
9.7
5
5
Barenaked
Barenaked Foods
1.4
0.7
102.1
6
7
Clearspring
Clearspring
0.6
0.1
24.6
7
6
Thai Taste
Bespoke Foods
0.5
0.0
-0.6
8
10
Seven Moons
JK Foods
0.4
0.1
42.4
9
8
Mekong
JK Foods
0.4
0.0
3.2
10
9
Orient
JK Foods
0.3
0.0
10.6
Top 10 Rice
£m
change (£m)
change (%)
Total Category:
474.9
13.1
2.8
Total volume change:
4.30%
Total Own Label:
168.8
10.2
6.4
This year's rank
Last year's rank
Brand
Manufacturer
£m
change (£m)
change (%)
1
1
Uncle Bens
Mars
143.8
-1.6
-1.1
2
2
Tilda
Tilda
79.9
-0.3
-0.4
3
3
Laila
Surya Rice
15.1
3.6
30.8
4
4
Kohinoor
Kohinoor
8.5
-1.4
-13.8
5
6
Veetee
Veetee
5.6
0.1
2.0
6
7
Merchant Gourmet
Leathams
5.1
0.0
0.8
7
5
Ainsley Harriott
Euro Food Brands
4.8
-1.2
-19.8
8
13
Akash
Akash
3.8
2.2
131.1
9
10
Badshah
Veetee
3.5
1.1
47.1
10
11
Salaam
Surya Rice
3.4
1.2
51.8
The Grocer's Top Launch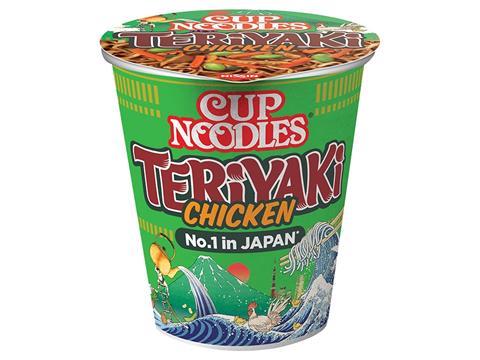 Cup Noodles by Premier Foods
Pot Noodle better watch out. Because Cup Noodles, the top instant noodle brand in Japan, wants to slurp up some of its sales. And the omens are good. UK consumers have shown a growing appetite for pricier pots of noodles – and with an rsp of £1.75, Cup Noodles commands a significant premium over its market-leading rival. The sector is also moving towards more authentic flavours, meaning the likes of Sukiyaki Beef and Pork Tonkotsu are bound to tick a lot of boxes.