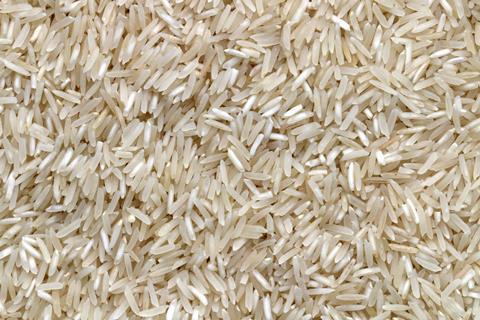 Amid all the huge stories of 2020, it might be easy to dismiss as trivial the news of a dietary landmark. That is, for the first time, Brits have spent more money on rice, noodles and pasta than they've spent on fresh potatoes.
That the spud is no longer king of carbs is a milestone that matters. Because the move towards other options marks the culmination of the trend towards convenient and exotic food. And it also shows an abrupt swing from fresh produce to store cupboard items, driven by the pandemic.
Sales of rice, noodles and pasta have surged by 16% to £870.5m in the past year, dwarfing the growth of potatoes, up 1.1% to £784.1m. Of the two biggest sectors – rice and pasta, which together outsold spuds by £35.6m – pasta has seen the greatest percentage gain, up 21% or £49.2m.
"Italian cuisine performed well in lockdown," says Neil Brownbill, commercial director at Napolina owner Princes. "The driver of that is the fact pasta is extremely convenient. It's a store cupboard staple and lends itself to a number of meal occasions. So, it's ideally suited for the conditions that households faced in lockdown."
As Britain's biggest pasta brand, Napolina delivered most growth, with sales up £9.5m to £39.5m. This, in part, was the result of its ability to keep up with soaring demand better than competitors as supply chains started to buckle under the weight of lockdown in Italy and panic-buying in the UK.
Princes typically holds two months of stock. When that started to disappear at an increasing rate amid the stockpiling of March, the business was able to increase the amount of pasta it was shipping from Italy, says Brownbill. "This allowed us to stay broadly ahead of the curve."
Still, most supermarkets and suppliers struggled to keep up with demand and shelves were emptied. Challenger brands won listings as retailers tried to plug gaps in supply. For example, Naples' Di Martino racked up sales worth more than £800k (from next to nothing a year ago) thanks to widened distribution.
Barilla, Italy's bestselling pasta brand, won big too – growing value by 51.8% to £6.1m. Its marketing manager, Alberto Costella, told The Grocer in November demand from export markets doubled in the wake of the pandemic. "We put a strategy in place that enabled us to navigate this crazy year as best we could," he said. "This included granting product availability to the UK as much as possible."
So great was demand for pasta that Le Stagioni D'Italia made £1.5m in just four months, having made its UK debut in May in Sainsbury's and Asda.
"We'd originally planned for our launch to take place towards the latter half of the year," says a spokesman for the brand. "But with the global pandemic bringing uncertainty and mass panic-buying of long shelf-life products, we took the decision to move our launch forward."
It wasn't just pasta that people stockpiled, though. "Our Italian rice products also proved popular as people turned to alternative rice products when their usual, such as basmati, wasn't available," adds Le Stagioni D'Italia. "The biggest challenge was ensuring a strong supply chain throughout this time."
Every rice supplier was in the same boat, but some managed better than others. Market leader Uncle Ben's sales inched up by just 2.7% on volumes up 1.7% over the year, despite overall rice sales surging 13% on volumes up 10.8%. Owner Mars Foods says this was the result not only of shoppers shifting to bulk packs but also range rationalisation.
"During the first lockdown in March, we prioritised our supply to focus on shoppers' favourite SKUs," says Mars Foods strategic demand director Fiona Fox.
"As a result, we were able to maintain supply on shelf for shoppers. However, this resulted in 8% to 60% value decline and 14% to 65% volume decline on our de-prioritised SKUs."
At the same time, performance of core lines rose, she adds. "For example, Golden Veg ready to heat rice is up 19.6%, Egg Fried ready to heat is up 29.4 % and Boil in the Bag Long Grain 500g is up 15.6%."
Note Mars' emphasis on convenient pouched options, which are normally the key engine of growth in rice. But 2020 hasn't been normal. While demand for pouches remained, there was an explosion in demand for bulk packs of dry rice as shoppers stocked up and scratch cooked more.
This worked to the advantage of Tilda, which trades more in bulk. "Dry rice is growing fastest, with larger formats over 4kg experiencing growth of 23.6%," says Tilda head of external affairs Jonathan Calland, pointing to the number two brand's 20.1% value increase.
Convenience is still important to shoppers, mind. See the boom in noodles for evidence. Sales are up 26.4%, with the market's top three brands – Amoy, Sharwood's and Blue Dragon – delivering combined growth worth £5.7m. Amoy brand manager Doron Lass says noodles "tap the desire for fast, homemade Chinese meals".
So, maybe it's a need for speed that's putting punters off peeling potatoes.
Top Products 2020
In association with Nielsen
Top 10 Pasta
£m
£ change
%
Total volume change:
12.1%
Total Category:
283.5
44.5
18.6
Total Own Label:
141.6
16.0
12.8
This year's rank
Last year's rank
Brand
Manufacturer
£m
change (£m)
change (%)
1
1
Napolina
Princes
35.4
6.9
24.1
2
2
Batchelors Pasta 'n' Sauce
Premier Foods
25.0
3.7
17.5
3
3
De Cecco
De Cecco
13.5
3.4
33.7
4
4
Mug Shot
Symington's
8.2
–1.4
–15.0
5
6
Barilla
Euro Food Brands
5.2
2.0
64.5
6
5
Marshalls
Pasta Foods
4.1
0.9
29.3
7
7
Cheesey Pasta
Mondelez
3.3
0.6
21.6
8
9
Seeds of Change
Mars Foods
1.8
0.4
33.4
9
8
Happy Shopper
Booker
1.6
0.0
0.3
10
14
Garofalo
Pasta Garofalo
0.6
0.2
66.6
Top 10 Rice
£m
£ change
%
Total volume change:
10.8%
Total Category:
530.9
60.0
12.8
Total Own Label:
187.1
18.7
11.1
This year's rank
Last year's rank
Brand
Manufacturer
£m
change (£m)
change (%)
1
1
Uncle Ben's
Mars Foods
147.7
3.8
2.7
2
2
Tilda
Tilda
96.1
16.1
20.1
3
3
Laila
Surya Rice
20.2
5.1
33.6
4
4
Kohinoor
Kohinoor
10.5
1.9
22.9
5
5
Veetee
Veetee
8.0
2.4
43.2
6
7
Akash
Tilda
4.4
0.6
16.4
7
6
Ainsley Harriott
Euro Food Brands
4.2
–0.6
–12.2
8
9
Salaam
Surya Rice
4.0
0.6
18.7
9
10
Riso Gallo
Gallo
3.9
1.4
54.1
10
8
Badshah
Veetee
3.5
0.0
–1.0
Top 10 Noodles
£m
£ change
%
Total volume change:
21.3%
Total Category:
50.8
10.6
26.4
Total Own Label:
13.5
2.5
22.8
This year's rank
Last year's rank
Brand
Manufacturer
£m
change (£m)
change (%)
1
1
Amoy
Heinz H J
10.7
2.1
25.0
2
2
Sharwoods
Premier Foods
10.0
2.1
26.2
3
3
Blue Dragon
Ab World Foods
5.9
1.5
34.6
4
4
Mama
Thai President
2.5
0.4
19.3
5
5
Barenaked
Barenaked Foods
1.6
0.2
15.9
6
6
Clearspring
Clearspring
0.8
0.2
38.7
7
7
Thai Taste
Bespoke Foods
0.7
0.2
45.2
8
9
Seven Moons
Jk Foods
0.5
0.1
40.0
9
8
Yutaka
Tazaki Foods
0.5
0.0
16.8
10
14
Samlip
Samlip General Foods
0.4
0.2
82.8
The Grocer's Top Launch
Lost the Pot Noodle, Unilever
It'd be easy to assume Lost the Pot Noodle's June debut was an agile response to the lockdown surge in home cooking. But the truth is Unilever was planning the launch before Covid-19 hit the UK, registering the name with the IPO in January. Nevertheless, Lost the Pot Noodle's arrival was well-timed. Available in Sweet Chilli, Roast Chicken and Curry, it ditched the pot from Pot Noodle in favour of a block format – which its maker hopes will broaden the brand's appeal with families.