It's been a year of two halves for olive oil brands. In the early months of 2018, the ongoing impact of the low 2016/17 harvest and the devaluation of sterling resulted in ­further commodity price inflation, putting pressure on margins and forcing some brands to slash promotional activity. "Cost inflation has impacted upon Napolina's ability to invest in promotional activity to the same levels as last year," says Neil Brownbill, commercial director at the brand, which saw volume sales of oils plummet 13.5% after average prices surged by 12.3%. Higher average selling prices "resulted in some consumers trading down to smaller pack formats , including own brand", Brownbill adds.
However, Italy and Greece's olive groves bounced back for the 2017/18 harvest, with production up by 135% and 77% respectively, according to the EU Commission. It meant total EU production of olive oil was 24% higher than the previous season, and by August average EU producer prices for virgin olive oil had fallen by 10%.
This meant some brands were "able to deliver increased promotional support" says Walter Zanre, MD of Filippo Berio, which reurned to triumphant volume and value growth. "We have additionally maintained the above-the-line consumer communication which has involved TV, press and digital advertising," he adds.

As promotions return to shelves, the wider olive oil market has also returned to ­volume growth in recent months, Zanre claims. However, growth is coming from extra virgin, as refined continues losing shoppers to sunflower oil. "This will be driven by the large price differential and the fact these oils are easily substitutable," he adds.

Sunflower oil is much cheaper than olive oil, and commodity prices have fallen again this year as a result of "a bumper crop and high carry over," says Paresh Mehta, commercial director at KTC. Global sunflower oil production has hit record highs in the past five years, up 23% on average [Mintec], with low commodity prices fuelling aggressive price cuts in the mults, particularly on larger packs. Tesco cut the price of own-label five-litre packs to £3.50 in April, while Asda and Morrisons followed suit with the KTC brand.

"The most recent triumph in the overall edible oils market is the success of the 5l sunflower oil SKUs," says Mark Church, managing director for Edible Oils, which owns Crisp 'n Dry, Mazola and Pura. "These packs have been used by the retailers to drive new shoppers into the category during key religious festivals including Ramadan and Diwali."

Meanwhile, rapeseed oil brands have been hit by high comodity prices following "a poor crop as a result of the high temperatures in the EU over summer" says Paresh. Coconut oil brands continue to struggle, with the exception of Vita Coco, as retailers use own label to drive down prices and increase penetration. "This means there has been a large price variance between own-label and branded products," says Church.

Looking ahead to 2019, olive oil prices will "remain firm", predicts Zanre, with a bumper crop in Spain expected to offset another big drop in production from Italy and Greece.
TOP LAUNCH
---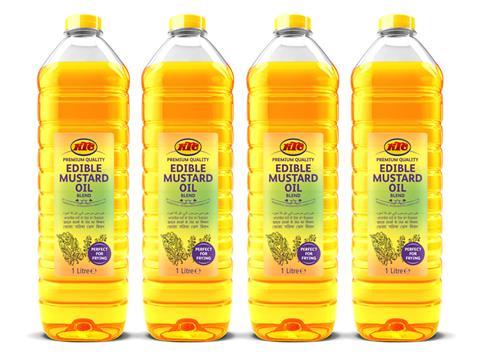 Edible Mustard Oil, KTC
True innovation is rare in oils. But KTC has brought something genuinely new to the market with this edible mustard oil – which it claims is the UK's first. With a vibrant yellow colour and pungent, nutty flavour, mustard oil is a crucial ingredient for many Indian dishes. It's generally banned from food in the EU due to its high levels of erucic acid, shown to cause fatty deposits in the heart. KTC's version, however, is blended with rapeseed oil to reduce eruric acid content to less than 5%.