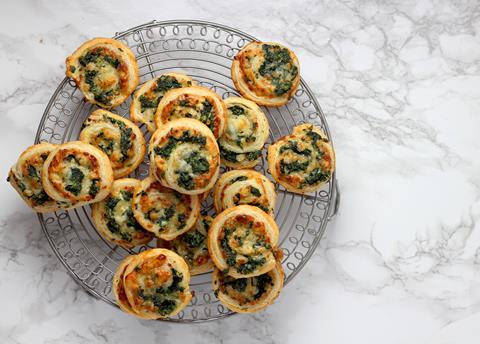 Barely a single hot pie has passed the lips of hungry sport spectators since the country first locked down in March. At first glance, it seems a similar story in shoppers' homes. Unit sales of savoury pastries from grocery chillers have fallen by 10.3 million kg – roughly equivalent to 50 million single-portion pies – after brands shed 7.5% of volumes.
Look closer at the numbers, though, and a more positive picture emerges. Six of the top 10 savoury pastry brands have actually achieved volume growth. The problem is in the number four slot: Wall's. It has almost single-handedly driven the sector into decline, shedding 9.7 million kg.
For its part, Wall's Pastry insists this slump doesn't represent consumers turning away from the brand's sausage rolls, pasties and pies. Instead, brand marketing manager Mike Holton explains it's down to "stepping in to breach a supply issue experienced by a major UK retailer" in 2019. That temporarily inflated growth fell away as soon as that supply issue had been resolved.
"When subtracting this inflated growth, the wider Wall's Pastry brand grew by 0.7%," he says. "As a brand, we are witnessing growth in sales within the pastry category."
So, the brand isn't in the doldrums after all. And neither is the category in which it sits. The market's performance this year represents an uptick on a tepid 2019, as it added £30.8m driven by double-digit value growth among some of the biggest players. The top three – Ginsters, Higgidy and Pukka – have generated an extra £19.2m between them.
"During these uncertain times, people are turning to brands they trust and want food that's easy to prepare and satisfying for all the family, and our pies tick all of these boxes," says Pukka category controller Julie Stevens.
Higgidy CEO Mark Campbell echoes those sentiments. "The savoury pastry category has had a very strong year as consumers have gone back to comfort foods they love when things have been uncertain around them," he says.
The shift to working from home, alongside the closure of hospitality, have also created more in-home eating occasions. That played into the hands of those brands focused on conventional mealtimes – and explains why Ginsters, Higgidy and Pukka all won so big.
In the case of Ginsters, it made efforts to adapt to this new environment. MD Kieran Hemsworth explains marketing plans had to rapidly shift away from event-led activity. Instead, it has invested in social, digital, PR and shopper marketing to reach consumers with a new, Covid-friendly message. "That's been focused around the big growth occasion we've seen, which is the work from home lunch," he says.
Overall, though, category growth has been driven by price increases. That has made up for the fall in volumes, which may have been driven by, but haven't been confined to, Wall's. There are two factors at play here.
First, the strongest value growth has come from some of the sector's more expensive and premium players, driving an overall rise in average category prices. "As people have not been able to dine out they've been looking for that bit of luxury at home," says Higgidy's Campbell. The brands getting left behind are some of the sector's more affordable players. Wall's and Holland's have suffered the biggest volume drops, resulting in a shift of market share towards the more premium names in the category.
Second, Pieminister head of PR & marketing Romany Simon notes the savoury pastry category benefited from a spike in early lockdown demand. As shoppers stocked up, promotions were rapidly scaled back to ensure supply could meet that level of demand.
That focus on supply dampened innovation in many areas of grocery. But there has still been some notable NPD in savoury pastries, such as Pieminister's launch of a DIY kit through its website. Then there's Pukka's Just For Two sharing pie range. With an rsp of £3, it reflects the expectation that "many shoppers will become even more price sensitive as the nation starts to feel the full economic impact of Covid" says Stevens.
Brands are also making moves to capitalise on dietary trends – in particular, veganism. Take, for instance, Ginsters' expanding selection of Quorn-powered options and Wall's plant-based debut in October 2019. More recently, Pukka added a vegan Tikka Masala Pie to its roster this September and Pieminister unveiled Mooless Moo and Mock-a-doodle pies in the autumn.
While a pivot to plant-based has been simple for savoury pastries, it poses more of a challenge for the meat snacking category. But the movement against meat has done nothing to deter booming growth in the segment.
Meat snacks
Indeed, it's been a great year for meat snacks in terms of retail sales, even as its traditional lunchbox and on-the-go occasions have been replaced by in-home consumption.
Surging value growth of 12.1% in the category was entirely due to a 13.3% rise in branded sales, as the vastly smaller own-label segment fell 23.6%. While pricing increases supported the overall picture, meat snacks are also selling more packs and products, with volume growth of 6.6%.
This positive picture has been driven by the category's top four, which are all in double-digit growth. They include Fridge Raiders, up 11.5%. Brand owner Kerry Foods says it has benefited from the vastly changed marketplace, in which there are now 148 million more snacking occasions per week. "Chilled food-to-go options allow people to get the nutrition they require in a world where the three stalwarts of breakfast, lunch and dinner are now often not the norm," it says.
Although not on the meatless train, the category is very much latched on to health trends, positioning itself as a high-protein, low-sugar choice. Laura Trivulzio, marketing director for Peperami & Jack Link's, explains a key positioning behind its portfolio is "for consumers looking for both taste and health in one".
It's an approach that could help meat snacking sales remain healthy in 2021.
Top Products 2020
In association with Nielsen
Top 15 Meat Snacks
£m
£ change
%
Total volume change:
6.6%
Total Category:
176.6
19.1
12.1
Total Own Label:
3.7
-1.1
-23.6
This year's rank
Last year's rank
Brand
Manufacturer
£m
change (£m)
change (%)
1
1
Peperami
Jack Link's
82.1
10.9
15.2
2
2
Fridge Raiders
Kerry Foods
63.0
6.5
11.5
3
3
King's
New World Foods
7.3
1.9
35.6
4
5
Jack Link's
Jack Link's
5.4
1.4
35.4
5
4
Taste Inc
CP Foods
4.5
0.2
4.4
6
7
Cruga
New World Foods
3.2
0.2
8.2
7
6
Wild West
New World Foods
–3.2
–0.4
–11.0
8
9
Dieter Hein
Dieter Hein
0.8
0.3
65.1
9
13
Beretta
Fratelli Beretta
0.5
0.2
98.7
10
8
Ember
Ember Snacks
–0.5
–0.1
–22.8
11
10
The Curators
Curators of Flavour
0.4
0.0
26.0
12
12
Delicatessen Fine Eating
House of Westphalia
0.4
0.1
40.5
13
27
Made For Drink
Made For Drink
0.3
0.3
577.2
14
15
Unearthed
Winterbotham Darby
–0.2
0.0
–5.4
15
17
Wilding's
Wilding Snacks
0.2
0.0
21.1
Top 15 Savoury Pastries
£m
£ change
%
Total volume change:
-4.1%
Total Category:
1139.7
30.8
2.8
Total Own Label:
642.0
23.7
3.1
This year's rank
Last year's rank
Brand
Manufacturer
£m
change (£m)
change (%)
1
1
Ginsters
Samworth Brothers
102.1
4.8
4.9
2
2
Pukka
Pukka Pies
43.5
7.0
19.1
3
4
Higgidy
Higgidy
33.4
7.4
28.5
4
3
Wall's
Addo Food Group
26.1
–2.8
–9.7
5
5
Peter's
Peter's Food Service
15.4
0.0
–0.5
6
6
Bells
Bell Bakers
15.2
1.6
11.9
7
7
The Welsh Pantry
The Welsh Pantry
13.3
0.0
0.9
8
8
Vale of Mowbray
Harris C&T
12.1
1.8
18.0
9
10
Pieminister
Pieminister
10.3
1.1
11.7
10
9
Pork Farms
Addo Food Group
10.1
0.0
–0.5
11
15
Charlie Bigham's
Charlie Bigham's
7.5
1.7
29.7
12
11
Holland's
2 Sisters Food Group
6.8
–0.6
–8.0
13
13
Country Choice
Country Choice
6.4
–0.2
–3.4
14
14
Seriously Tasty
Peter's Food Service
6.4
0.2
4.0
15
12
Rowe's
WC Rowe
5.5
–1.5
–21.1
The Grocer's Top Launch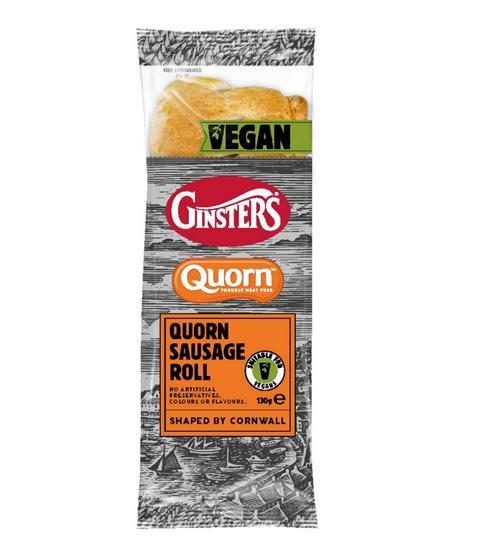 Ginsters Quorn Sausage Roll, Samworth
Ginsters took on Greggs in April with its second Quorn collaboration: a plant-based sausage roll. The chilled snack comprises "bespoke meat-free, high-fibre sausage, peppered with herbs and spices, in a light puff pastry". It came after the two suppliers unveiled the Ginsters Vegan Quorn Pasty in September 2018, which soon became "the fastest-selling meat-free pasty in grocery" according to Ginsters. The brand teamed up with Quorn for a third time in October for a Vegan Pepper Steak Slice.