The Grocer's 2017 Top Products Survey, THE definitive guide to the current state of the UK's grocery industry
Bottled water has been one of grocery's star performers in recent years. This is the sector's eighth consecutive year of growth. Since our 2010 Top Products report, sales of bottled water have grown a whopping £488.1m.

But that doesn't make the bottled water brands bulletproof. The biggest, Volvic, has seen sales slide by £13m (7.2%) on volumes down 11%. This, says Danone Waters head of category & commercial strategy John Letford, is the result of "distribution decisions" by Tesco, Asda and Morrisons in 2016. "The brand has continued to rebuild listings and distribution in each range review since the start of the year," he stresses.
That Danone's other big brand Evian is losing share (value is up by just 1.6% on volumes up 2.6%; the overall market is up 6.7% in value and 7.2% in volume) is evidence of stiffening competition as the giants of fizzy pop muscle in on bottled water. CCEP's Glacéau Smartwater has grown by nearly a quarter thanks to big distribution gains and the 2016 launch of a sparkling variant. Britvic's Robinsons Hydro has surged by 66.2% and now Lucozade Ribena Suntory is making moves with Fitwater.

The attractions are clear, says Jonathan Barr, marketing director at Princes, whose Aqua Pura brand is up by more than a quarter. "Water is largely immune to a number of market conditions affecting prices in other categories, such as the impact of global fruit harvest yields on juice prices," he says. "The sugar tax has come at a time of peak awareness around health and hydration, with demand for natural products and transparency around sourcing at an all-time high."

It's not just healthier shoppers driving bottled waters forward. "Much of the growth is also being driven by those shopper missions that bottled water drinks naturally lend themselves to," says Danone Waters' Letford. "On-the-go and top-up shoppers have heavily contributed. Small formats are driving the majority of value growth."

It's a different story in squashes & cordials. Ranges have been reduced across the major mults, says Nielsen client manager Will King, who puts the sector's 2.9% fall in average price down to the lowering of base prices. "Retailers are trying to make up volume terms by slashing prices," says King.

Sales are down £15.9m, with Vimto, which claims it will dodge the levy by reformulating, the only major brand in significant growth apart from premium lines like Belvoir. Bottled water is also unaffected by the tax, but there's another threat to the sector: concern about pollution caused by plastic bottles, prompted by shocking images of their impact on our oceans. Will this dampen water's growth?
TOP LAUNCH
---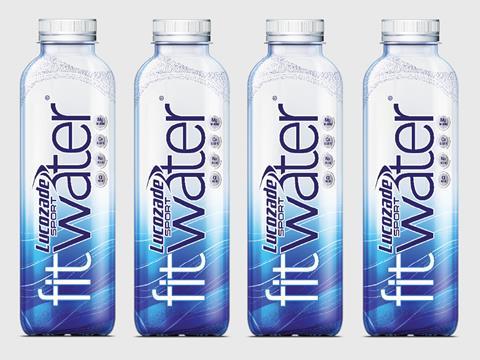 Fitwater by Lucozade Ribena Suntory
Is there room in the bottled water market, dominated by the likes of Danone, CCE and Nestlé, for another massive multinational? LRS certainly seems to think so. Fitwater, hailed as the brand's "most ambitious" NPD in almost a decade, has health and wellbeing-obsessed shoppers set firmly in its crosshairs. Given the storming success of 'functional' drinks, this electrolyte-laced water could make a serious splash.