If one category found warmth from the Beast from the East, it was soup. The big freeze saw sales heat up after years of decline, as some manufacturers claimed sales shot up almost a third during the snow.

But if the Siberian weather giveth, the long, hot summer taketh away. This rollercoaster existence averaged out in a somewhat flat picture for the entire year.
"The Beast from the East did have an impact, but it was relatively short-lived," says Yorkshire Provender marketing director Maria Townsend. "The summer was consistently hot and 21 of the 25 weeks from mid-April to October saw a decline on last year."

Still, Yorkshire Provender can't complain. It was the standout performer in fresh soup this year, with sales of its standard variant up by 10.4% to £7.9m. Its organic range managed even stronger growth of 51.4% to £5.2m.

Townsend attributes its success to more adventurous flavours such as its Piri Piri chicken (see Top Launch) attracting younger shoppers, along with the power of on-pack health messages. That Yorkshire Provender sits in the fresh aisle can't have hurt either. Fresh generated an extra £3.3m despite losses for number one brand New Covent Garden, which Hain Daniels is consciously stripping back to win extra space for its higher-priced Yorkshire Provender offering. And even that brand managed to secure an extra £900k with its New Covent Garden Nutri NPD.

Over in ambient, things are looking less positive. Facing a 4% volume decline that rises to 6.2% in branded, brands are looking to innovation to turn things around. "NPD such as Heinz Soup of the Day and Heinz No Added Sugar and Eat Well Soup have played a key role in driving growth," says Laura Guenault, marketing executive for Heinz Soup. While standard and chunky soups continue to decline, Guenault says healthy and speciality "are injecting growth by tapping into the growing consumer trends around health, goodness and convenience". Handily, they can command a higher price too - Eat Well comes at £1.20 in Tesco, while standard Heinz is 95p. All this helped drive up average ambient soup prices by 3.7%.

It may take another Beast to address those flagging volumes, though.
TOP LAUNCH
---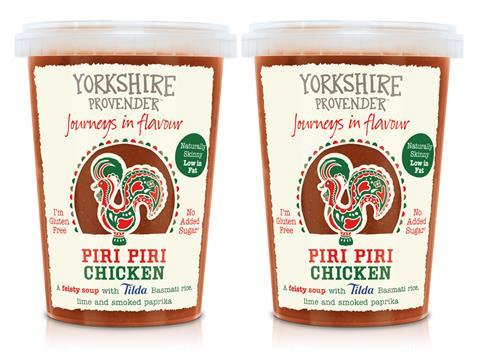 Piri Piri Chicken, Yorkshire Provender
It was described as "a sensation" that "restored faith in spicy soup" by the judging panel that made this product a winner at The Grocer New Product Awards this year. With a winning mix of spice as well as price – it comes at £2.50 for 600g – this NPD goes some way to explain Yorkshire Provender's standout performance this year. The brand also targeted a younger audience with world flavours and heavy product sampling at events such as music festivals.