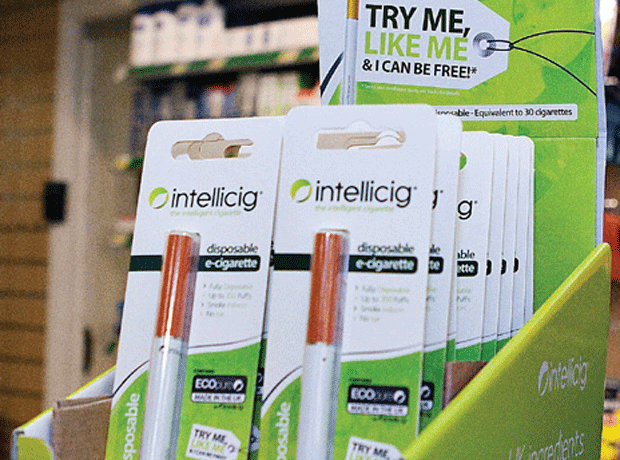 The government is set to ban the selling of electronic cigarettes to anyone under the age of 18 amid concerns that children are taking up e-cigs and being drawn into smoking.
It also intends to make it a criminal offence for adults to buy regular tobacco products for children. This 'proxy purchasing' would be punishable with a fine of up to £2,500.
Both measures are to be brought in as amendments to the Children and Families Bill, which has previously been amended to include enabling legislation to bring in plain packaging for tobacco products if the measure is recommended by the current independent review on the subject.
The Department of Health is understood to have been convinced to align the age restrictions for buying electronic cigarettes and tobacco based on growing anecdotal evidence that children are using e-cigs sometimes even in school.
"The new law will reinforce the message that we have always conveyed to the retailers that stock our products"

Nikhil Nathwani, Nicolites
Latest figures suggest there are around 1.3 million users of e-cigs in the UK, and, although widely believed to be safer than tobacco, doubts remain over the long-term effects and the possibility they could actually introduce young people to nicotine and to smoking.
The UK government also intends to ensure e-cigs are regulated as medicines, in the same way as nicotine gums and patches, by 2016.
The decision to set an age restriction on the product has been welcomed by Nikhil Nathwani, managing director leading e-cig brand Nicolites.
"We have always been extremely aware of the dangers associated with young people and smoking. That is why we have taken all measures possible to prevent our e-cigarettes being sold to anyone aged under 18," he said.
"We therefore welcome the government's announcement of new legislation controlling the sale of e-cigarettes to under-18s and making it a criminal offence for an adult to buy them on behalf of a young person. The new law will reinforce the message that we have always conveyed to the retailers that stock our products. We will do all we can to support the government and to ensure that it is implemented and strictly adhered to.
"Our packaging and marketing always stresses that Nicolites are intended for sale to those aged over 18 only and we will continue to make this message as clear as possible," he added.
Proxy purchasing
Retailers are also in favour of both measures, with the Association of Convenience Stores heralding the crackdown on proxy purchasing a breakthrough in one of its longest running campaigns.
"We have long argued that it is ludicrous that an adult can walk into a shop buy tobacco, and then walk round the corner and sell it on to a child without breaking the law," said ACS chief executive James Lowman. "This change in the law is an important step forward in reducing the exposure of young people to tobacco."
He also expressed support for the move on e-cigs, claiming that this "will bring the law into line with the commonly accepted policy in the industry".