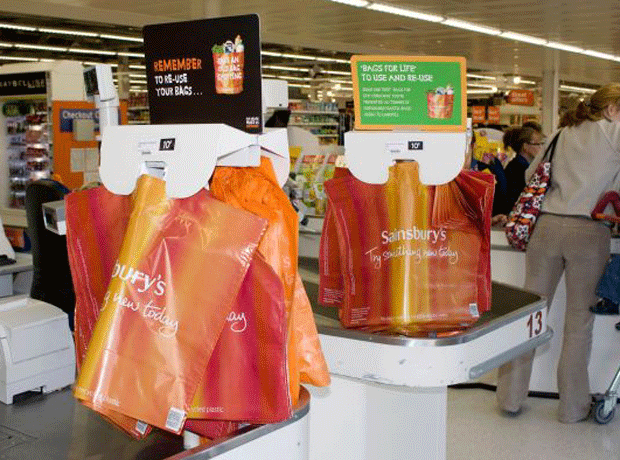 A tax on supermarket bags for life would fly in the face of efforts to cut waste, claim retailers in Northern Ireland.
Since April, when the province followed Wales in introducing legislation, Northern Irish retailers have been forced to charge customers at least 5p for single-use carrier bags.
But the government is now going further, claiming many reusable bags also end up in landfill. It has issued a call for evidence from retailers as it finalises a Bill that would extend charging from April 2014 and introduce a 10p levy on any bag priced less than 40p. This would be payable by customers and go to government coffers.
With heavy-duty plastic bags for life selling for 6p-10p on average, this would double the price and punish green shoppers, claim retail leaders.
"A reusable bag tax would penalise customers for being environmentally conscious," said Aodhán Connolly, director of the Northern Ireland Retail Consortium. "It will either encourage consumers to purchase a single-use bag - which calls into question the purpose of the initial single-use carrier bag levy - or incentivise customers to purchase more expensive and durable reusable bags, which need to be used far more than a low-cost reusable bag to offset their carbon footprint."
Last month Wrap data showed charging was reducing the use of carrier bags. While the number of carrier bags used in England has risen 4.4%, it has fallen 76% in Wales in the first full year since charging was introduced.
Scotland recently announced retailers will have to charge at least 5p per bag from October 2014. But in England ministers look set to continue avoiding charges, with a Defra consultation on the waste prevention programme for England, launched this week, carrying no mention of charging for bags.