As the UK battles the wettest winter for decades, suppliers and retailers across the country are battling to get supplies through to flood-hit areas.
Having first hit the Somerset Levels before Christmas, flooding has now affected Berkshire and Surrey, after the Thames burst its banks. The North of England and Wales was hit by a storm on Wednesday (12 February) with gusts reaching 108 mph, and the South of England is bracing itself for a month's worth of rain to fall over the next few days.
Here we round-up stories from across the UK:
Prime minister David Cameron has revealed businesses affected by flooding will be given 100% business rate relief.
Speaking during Prime Minsiter's Question Time on Wednesday (12 February), Cameron said: "We will be introducing a grant for all affected homeowners and businesses to build in better flood protection as they repair their properties. That will be up to £5,000 per house and per business.
"I can also announce today that we will be deferring the tax payments that businesses have to pay and all of the businesses that have been affected by floods will get 100% business rate relief."
The move was welcomed by the Association of Convenience Stores. CEO James Lowman said: "This announcement is a welcome step from government to lessen the impact of flooding on our members in the short term. However, we must also focus on the long term and ensure that businesses have affordable flood insurance in the future."
Morrisons has offered its support to those hit by the floods. Its stores in the South West of England are carrying out fundraising activities including bucket collections, raffles and bag packing. They're also collecting cleaning products and items to help with the clean-up operations. Staff are also helping out in the communities affected.
A spokesman added that it had also put out a call to farmers in the South West "offering them the use of our fleet of livestock vehicles if they have any stranded/distressed animals".
"We are also offering them priority slots at our abattoirs so they can get their livestock processed quickly," the spokesman added.
Asda has announced it will donate £400,000 to help flood-hit communities. It is also carrying out collections in-store and its staff in Bridgwater are delivering food parcels and clothing.
In response to feedback from local residents and emergency services, the Asda Foundation has provided £14,000 from the relief fund to buy 356 pairs of waders.
"We've an additional 2,000 arriving on Monday," an Asda spokeswoman said. "They've all sold out down south, so we've arranged a delivery this morning from Bradford that will be arriving later this afternoon."
She added that staff from across London had gone to support their colleagues in Slough and were helping distribute sand bags.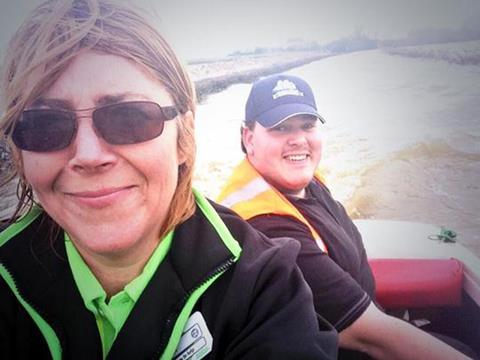 Over the weekend Tesco set up a helpline for famers struggling to get animal feed delivered for their livestock.
"We've received lots of calls, and over the coming days we will be collecting feed from farms all over the country, and delivering them to the NFU centre in Bridgwater for them to distribute to stricken farmers around the area," said a spokesman on Tuesday, 11 February.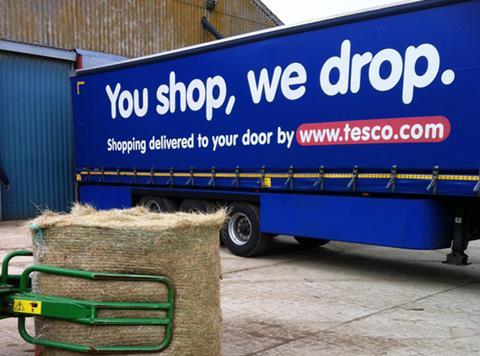 "Yesterday we collected 40 bales from a farm in Peterborough which we delivered to Somerset and we'll be collecting 120 bales of feed today. We will continue to deliver bales each day and have hundreds ready to distribute. We expect to deliver around 840 bales of feed this week.
Last year Tesco set up a scheme with the Red Cross, so that each store has access to a budget where they can donate up to £500 for Red Cross volunteers working in their community with no additional authorisation needed.
"This allows us to respond very quickly to emergencies and offer help when it's most needed," said a spokesman "We are working with the Somerset Emergency Flood Relief Fund to host fundraisers across our stories in the region. We'll be supporting their efforts with a further top-up for the total they collect."
Tesco has also been making supplies to the town of Mulcheney by boat from the Tesco Metro at Langport, its nearest store: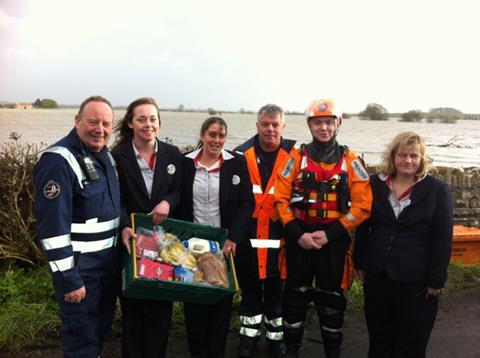 Mulcheney has only been accessible by boat since it was cut off at the start of January. Prince Charles visited the town on 4 February.
A passerby took this picture of the flooded car park at Tesco's flagship Watford store (which was recently refurbished) on Saturday:
Entrance to tesco extra at waterfields…. Build on a flood plain and this is what you get @Observer_Owl pic.twitter.com/ufa0M8hBWq

— Rich (@rich_mortimer) February 8, 2014
Waitrose, meanwhile, is backing The Prince's Countryside Fund, which is helping farmers affected by flooding. The PCF is urging people to make a £3 donation by texting PCF to 70300:
Showing your support for rural communities is as simple as texting PCF to 70300 to make a £3 donation to The Prince's @countrysidefund

— PCF (@countrysidefund) February 7, 2014
A Sainbsury's spokesman said: "Our stores and supply chain haven't been affected by the floods. That said, we have released funds centrally for our stores in the area so they can make grants to the community. They've also been providing food, hot drinks, blankets etc where needed."
In a further update on Wednesday (12 February), the retailer said that all of its stores were open and it was "working to ensure our customers across the country experience as little disruption as possible while shopping with us".
On the supply side, P&H has reported "limited disruption" to deliveries in flood-hit Somerset. "We have managed to reach our customers during this difficult time and no deliveries have been missed," said Tony Iles, Palmer & Harvey DC manager, Bristol.
Nisa said its use of "fixed driver teams" in the south west had proven successful in making deliveries: "The drivers and the stores are in regular dialogue and the drivers are re-routing to avoid floods etc and keeping our members informed. This has allowed us to make all deliveries and through the high level of communication has allowed the members to keep trading."
Farming impact
Meanwhile, experts have warned that flooding on the Somerset Levels could have a long-term impact on the region's livestock .
Flood-stricken farmers have resorted to Twitter to make their appeals for help:
Somerset farmers need wagons to transport fodder NOW @Tesco @asda @Morrisons @marksandspencer @waitrose @sainsburys pic.twitter.com/sy56oMQcS0

— Visit #OurCowMolly ! (@OurCowMolly) February 7, 2014
On Wednesday, 12 February, two tractors and trailers laden with livestock fodder and bedding will set off on a 225-mile journey from Wakefield to Bridgwater in Somerset. The 10-hour 'tractor aid' run is being undertaken by two farmers and cost of the diesel is being met by local farmers and the Wakefield NFU branch. The donated fodder and bedding has been sourced by members of the Barugh and District Ploughing Association.
Has your business been affected by the floods? Do you have any pictures or stories to share?
Contact beth.brooks@thegrocer.co.uk or leave a comment in the section below.
More on this:
Asda donates £400,000 to help flood-hit communities