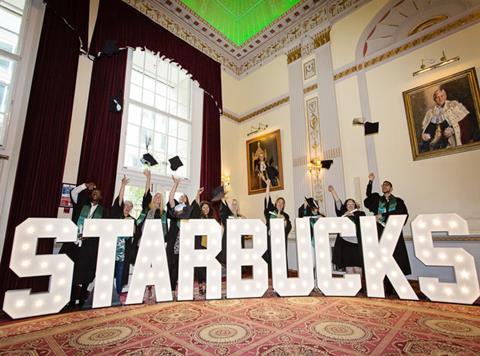 Starbucks' first 13 management apprentices have graduated after achieving their Level 4 Diploma in Leadership & Management.

The Institute of Leadership & Management qualification forms part of the coffee chain's commitment to provide staff with opportunities for continual learning and career development.

Starbucks introduced apprenticeships in 2012, enrolling more than 1,400 partners for qualifications in fields ranging from customer service to management and food technology.
Four-fifths of apprentices have achieved their programme and diploma to date. One in five of all those graduates have won promotions.

"Apprenticeships work for our business and our people, providing the catalyst for growth and progression," said Russell Butcher, senior manager, education, skills and qualifications, at Starbucks.

"We have numerous partners who have progressed through different apprenticeship programmes, culminating in our first-ever higher-level management graduates - a landmark milestone and a very proud moment for us all."

Starbucks delivers its apprenticeships in partnership with Remit Training and BPP through to degree Level 6.

The group committed itself three years ago to creating a further 1,000 apprenticeship places by 2020, which included professional management and leadership roles for the first time.

The programme is in its sixth year.