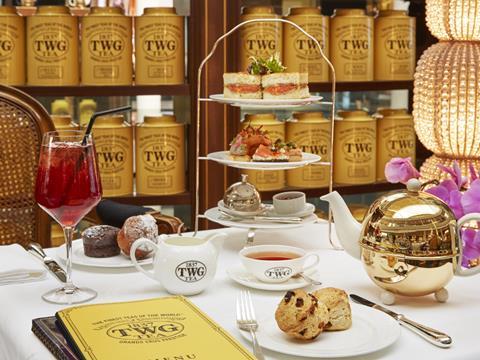 Having already sold tea to the Chinese - as well as 18 other countries - the founders of luxury Singaporean brand TWG Tea turned their attention to the UK this month, launching a flagship store on the corner of London's tourist epicentre, Leicester Square.

Spread across two floors, the gleaming 7,000 sq ft space showcases all 800-plus loose teas in its range, from bestselling green tea blend Silver Moon to Crème Caramel red tea, Chocolate Earl Grey and Milk Oolong.

There are 100g gift teas sold in meticulous haute couture packaging for £25 and hand-sewn cotton teabags in signature gift boxes. There are tea-infused candles, shortbreads and jellies. At the counter are tea flavoured macaroons, bon bons and ice cream. And for the 'connoisseur' 24ct gold tea leaves that will set you back a little over £500 for 45g.

In other words, it's quite overwhelming, I tell co-founder and director of business development Maranda Barnes. "It can come across like that," she laughs. "But we almost wanted that feeling because tea drinkers come from so many walks of life and for someone who, for example, only wants to drink Earl Grey and only has three or four varieties we wanted to present them with 13 or 14 different taste options so that every time they come back they can try a new tea that appeals to them.
"UK tea drinkers are very educated about tea but they might not know the breadth or scope of what teas are available. Nearly everyone I've spoken to has said 'yes I drink black tea', but there is so much more."

Housing the sheer scale of its collection was one of the primary drivers behind the brand expanding out of the Harrods concession it has sold from for the past nine years. "You're very limited when you work with just retailers," adds Barnes. "We couldn't expand to the F&B side of tea-infused cuisine - the macaroons, the chocolate, the ice cream. All that was another way to attract a younger customer."

Then there was the experiential opportunities of its own store. The second floor at Leicester Square houses an elaborate tea salon decorated with gold and silk wallpaper and an undulating ceiling designed in the form of a tea leaf, where guests can choose to sample any variety from the range, reading through its full provenance and ingredients. Then there is what the owners claim is the first tea museum housing vintage artefacts and antique tea wares.

The brand isn't only looking to capture the throngs of tourists strolling through Leicester Square, either. A second outlet located in a three-storey townhouse in Knightsbridge opened concurrently with a "more intimate" look and feel to build up a local customer base.
Only 10 years after it launched, the brand now has 70 outlets around the world, with branches across China, India, Indonesia and Malaysia. In many ways it went against the typical route of a luxury brand, admits Barnes, targeting major Asian tea producing countries ahead of Europe and North America and building up annual sales of $90m-plus before its London launch. "We wanted to make sure we had a great foothold there first to allow customers to understand these teas are of exceptional quality. They're drunk by customers from the biggest and most prolific tea producers in the world.

"That credibility was very important as the UK already has lots of strong tea brands but they don't necessarily have that stamp of approval from tea growers and producing countries."

And the gradual demise of tea sales in the UK? "That is something we took note of but I think that's because the black tea quality is really not very good. Niche tea, such as white teas or herbal, is now growing as people look for a higher-quality premium product and want to know where their tea comes from.

"We source directly from the gardens. We show that tea is not just dried leaves - they have an expiry date, they're very precious and they come from this plantation. We even know the day the tea leaves are picked."

She doesn't rule out expansion outside London, either - "I would love to see a tea salon in Bath or even further afield" - but it would require just the right blend of timing and real estate. After all "we're not selling £5,000 handbags here, we're largely selling 50g of tea at maybe £5 or £10." Something it's perhaps easy to forget when breathing in the scent of a gold-plated tea.