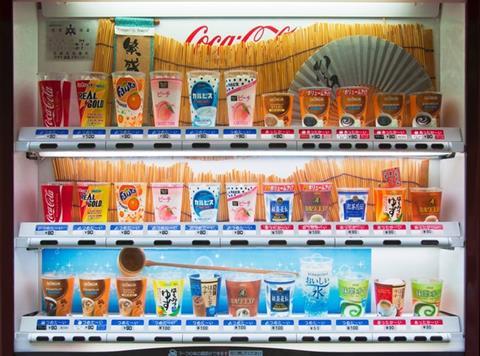 Vending's spiritual home? Japan. There's one machine for every 20 citizens and each unit, whether selling noodles, smokes or beer, grosses circa $15,000 per year.
Vending is culturally entrenched there – but why? Urbanised population and lack of space? High cost of labour? Gadget obsession? Lifeline for the nation's workaholics?
Nope. None of these explain why vending germinated in Japan – they explain why it thrives. The UK, and other countries for whom vending isn't native, can long identify with narrowing space, high labour costs, gadget love and long hours. But we haven't yet embraced vending at scale.
Think about the Monday morning rush at Pret a Manger and fmcg vending seems like an open goal. A machine can quite easily vend me a warm breakfast croissant so I don't have to wait in line behind 14 jonesing latte fiends.
Next-gen vending plausibly sits at the intersection of technology, convenience, speed, cost and ease. It could be retail's next disruptor, but as yet we've been tepid. Two projects from last year caught the eye as Co-op and Iceland used vending as a gateway drug to encourage plastic recycling.
On paper it's a hyper-rational solution: for customers a quick, easy, seamless and, ideally, contactless fix. For merchants it's a low-cost, low-energy, low-maintenance, box-ticking no-brainer.
Vending now offers social responsibility points. Some green machines run on alternative power, such as solar, while others sit permanently in standby mode until motion detectors sense customer movement. Several machines utilise gamification to inspire healthier product choices.
Via snazzy displays, video and windows into the machine's guts, newer units also offer a little theatre, quelling customers' lust for experience. Advanced AI can answer product and nutrition queries; machines are also capable of auto-reordering and storing customer data.
Shopkeepers can't do that and they cost £8 an hour.
Objectively, our culture's unwillingness to embrace vending can seem like an anomaly until you stop and think. And then it makes perfect sense.
A little known fact about vending in Japan is that it began, in the post-war years, on unmanned city street corner carts. No wires, no cashier, no protective glass - people left their homemade wares on tables and passing buyers purchased on the honour system.
Vending has a human legacy in Japan. And in a world of iteration, UK vending has missed a vital evolutionary stage. In its spiritual home, vending is rooted in trust, kinship and honesty. For us, vending feels like the terminus for human connection before an Orwellian vision of retail comes to be.
Purely as a response to social trends over here, next-gen vending will pick up. It's gaining momentum in large pockets of Europe and North America. From butcher meat and gourmet cheese to fresh salad, soup, premium electronics, emergency shoes, booze, meds, marijuana (the legal kind): it's 2018 and if you can eat it, wear it, drink it or smoke it, you can vend it.
So when we say vending could disrupt the retail status quo, the business case fits. Less so the spiritual one.
If food retailers have learned anything from the craft or local food movement it's that shoppers prefer to feel closer to the human stories behind the effort: the farmers, the knitters, the cheesemakers, the growers, the suppliers. Vending creates distance and that proposition, for me, is the gap retailers need to bridge. That's the bit they must disrupt.
Vending here doesn't have humanity in its DNA – it's a clinical solution for a new social order. Retailers therefore need to infuse vending with a human connection – a clever UI won't cut it. Asking customers to bypass the market or the café or the corner shop is troubling for us deep down in our psyche. Like the Japanese, we're people people too.
If vending is to triumph, retailers need to replace the emotional hooks and usher in a cultural shift. Pixels won't do it, it needs something a little more disruptive than that. But if social media and smartphone culture have taught us anything it's that behaviours can and will change if there's sufficient human and emotional payoff.
Vending in the UK is missing a chunk of code. For the retailer who punches in, the spoils will be incredible.
Jemima Bird is CEO and founder at Hello Finch