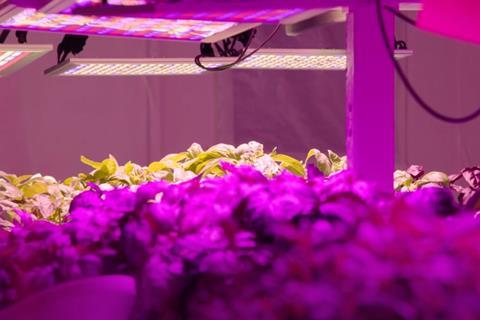 A potentially groundbreaking vertical farming venture is set to build what it claims is the biggest facility of its kind in the UK, having secured local government funding.
GrowPura has been awarded £4.5m by the South East Midlands Local Enterprise Partnership, which will be put towards a £22.5m 8,000 sq m facility near Unilever's campus at Colworth Park in Bedfordshire.
Set to begin construction by the end of the year and come online in mid-to-late 2021, the vertical farm will offer a large-scale version of GrowPura's patented technology – which it said had garnered interest from one unnamed major supermarket.
The process, which involves moving plants under both artificial and natural lighting rather than keeping them static, could revolutionise vertical farming both in the UK and abroad, according to CEO Nick Bateman.
"By moving the plants, we've ended up with an approach that improves the economics of large-scale [vertical farming]. It has a good environmental footprint and provides flexibility, which makes the whole process more controllable for the retailer," said Bateman.
Much of the environmental benefit came from the system's mix of artificial and natural lighting, which reduced energy requirements and also allowed the company to grow crops to a consistent standard.
"[In static systems] you can end up with lighting hotspots, meaning not all plants have equal lighting. In a moving system, it improves the uniformity of lighting – each plant will get a similar experience," he added.
"Say you go to the supermarket today and it's been raining heavily in the UK over the last 24 to 48 hours. Inevitably, the quality of the product would be worse than if it had been harvested in better conditions. Whilst there have been improvements in precision farming, you still end up with variable product quality on fields."
GrowPura's technology could also provide a "significant" boost to shelf-life as the 'clean room' automated process meant it was not necessary to wash plants after harvest.
"Humans are only involved in planting the seeds and packing product at the end, so the product is the cleanest it can be when you bag it. As it hasn't been through an aggressive cleaning process, which damages the plant, you get a longer shelf-life. That means there is no wastage for consumers or retailers," explained Bateman.
"We have sensors in each tray. This enables us to reduce the capital costs of the process, which is important if you're going to end up with a scale solution at a competitive price."
Bateman anticipated consumers "would have no problem" keeping products grown this way for a week or longer.
So far, the startup said it had grown 60 different crops, including brassicas and salads, at two smaller-scale sites. Bateman said it had received financial backing from equity partners and financial firms that would fund the new site but would also, he hoped, allow growers to provide the "not insignificant" cost of setting up such a facility.
The news comes after MPs raised concerns over the UK's food security following the coronavirus pandemic. The Efra committtee last week published a report that warned a "disorderly" Brexit at the end of the year could be an even bigger threat than Covid-19.