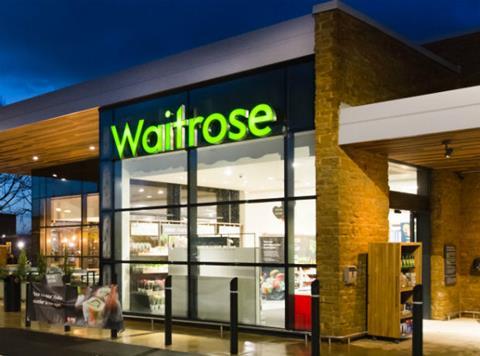 Waitrose will pursue "mindful" consumers such as vegans and put quality food first over gaining market share, its managing director has said (Telegraph). Rob Collins declared that Waitrose "will not chase scale" and was "proud to be niche" as he reflected on the need for the upmarket grocer to differentiate itself from its rivals. Noting that peers such as Sainsbury's and Asda are teaming up to defend themselves in a tough retail market, Mr Collins insisted "this 'move to the huge' is not for us". Writing in The Telegraph, he said: "Rather than worrying about having a 5pc share of the UK grocery market, we are focusing on being the best 5pc."
The supermarket industry watchdog is to start monitoring how Ocado and B&M Homestores treat suppliers after their respective annual turnovers passed the £1 billion mark (The Times £). The Competition and Markets Authority (CMA) said that Ocado, the online grocer, and B&M, the cut-price retailer, would be bound by the Groceries Supply Code of Practice, which governs how suppliers are treated to avoid abuses of power.
Shareholders in the parent company of café chain Patisserie Valerie have approved the share issue needed to recapitalise the company, but lambasted executive chairman Luke Johnson and his fellow directors (Financial Times £). Speaking at a meeting to sign off the £15m rescue deal, executive chairman and serial entrepreneur Luke Johnson admitted the company was "three hours from going into bankruptcy" (Telegraph). One shareholder said the cake shop and cafe group was "putting a gun to our heads" and another said the decision to offer heavily discounted shares only to institutional investors as part of a £25m rescue package was "not right and in fact immoral" (The Guardian, Daily Mail). Investors speaking for more than 99 per cent of the shares voted in favour of the resolutions (The Times £).
"The cakes were as stale as the answers… Patisserie Valerie disappoints while 'in the dock", wrote the Telegraph's Oliver Gill.
Just Eat, the takeaway site, said investment in Latin American markets and its move into deliveries to rival Deliveroo and UberEats would take a bite out of earnings, despite full-year revenues that are likely to come in towards the top of management forecasts (Financial Times £, The Times £). A rising demand for takeaways and the acquisition of rival Hungry House sent sales at food delivery business Just Eat surging above expectations in the three months to Sept 30 (Telegraph, Daily Mail).
Kraft Heinz fell short of Wall Street forecasts for the third quarter and sent shares down almost 9% in after-hours trading, after higher input costs and promotions outweighed an increase in sales (Financial Times £). The company behind pantry fillers such as Kraft Macaroni & Cheese, Heinz Tomato Ketchup and Oscar Mayer hot dogs reported higher net sales than analysts expected, but said investments and higher overheads, as well as promotional and commodity costs that hurt pricing, cut into its earnings.
"The fallout from the death of 15-year-old Natasha Ednan-Laperouse, who died in 2016 after a severe allergic reaction to one of the company's baguettes, and the company's woeful response, has brought home just how much Pret has changed under private equity owners, the most recent of which is JAB Holdings," writes Sathnam Sanghera in The Times (£). "All the things I once admired Pret for are no longer true."
Starbucks, the world's largest coffee shop chain, has delighted investors with an 11 per cent jump in fourth-quarter revenue to a record $6.3 billion, driven largely by growth in China and the Americas (The Times £). The company posted a profit of $755.8 million in the three months to the end of December compared with $788.5 million in the same period last year.
Airports could be banned from selling miniature bottles of alcohol as part of a crackdown on drunk passengers disrupting flights (Telegraph). Ministers are considering outlawing the sale of "miniatures" as they weigh up whether airside drinking should be brought under the same licensing regime as pubs and clubs in the rest of the country (The Times £).
Choosing to eat fishfingers is good for the oceans, according to research. They often come from more sustainable sources than fresh fish, the study by the Marine Conservation Society (MCS) found (The Times £).
For hundreds of years it has been a trade requiring detailed knowledge of animal anatomy, a strong stomach for blood and gore, and a very sharp knife (Telegraph). But these days butchery need not involve meat at all, as Harrods has unveiled a new "vegetable butcher" as part of its extended foodhall.
Sam's Club, which is owned by Walmart, is getting into the cashier-less game with the opening of its first Sam's Club Now store in Dallas (The Guardian).
WH Smith, the retailer, has been fined more than £300,000 after a customer fell through a trapdoor into a basement in one of its stores (The Guardian). The 64-year-old woman suffered life-changing injuries after falling about three metres (9.8ft) while browsing birthday cards in 2014 and was reported to have had to undergo three operations.
Two new stores and a booming online operation helped Ikea's UK business grow revenues last year but its profits continued to be held back by the weakness of sterling (Telegraph). The budget furniture seller, which has 21 full-sized stores and 11,380 workers, revealed a 5.9pc hike in revenues to £2bn after digital sales soared 14.4pc.