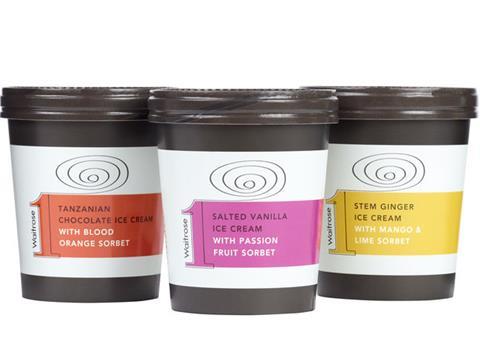 Waitrose has launched a new premium own-label range that brings together its Seriously and Menu own brands.
The Waitrose 1 range will initially include 180 items from its existing premium ranges, 200 "unsung heroes" from its speciality, fish, meat and pork aisles, as well as around 140 new products.
The retailer has set out plans to eventually increase the range, which goes live in branches and online this month, from 500 to more than 800 products. At least 160 additions to the range were due to launch in the autumn, it said.
Waitrose said prices of former Menu and Seriously products would remain the same unless there had been a change in recipe. Sixty products from these lines had been improved to fit the new brand, it said.
New lines in the Waitrose 1 range include Tanzanian chocolate ice cream with blood orange sorbet, and sloe gin cured ham with blackberry & damson glaze.
Prices start at 75p for a luxury chocolate bar.
Waitrose said the new line marked its biggest own-brand launch since its Essential range in 2009. "Waitrose 1 raises the bar in premium food, giving the assurance to our customers that these products represent the best of the very best," said marketing director Rupert Thomas.