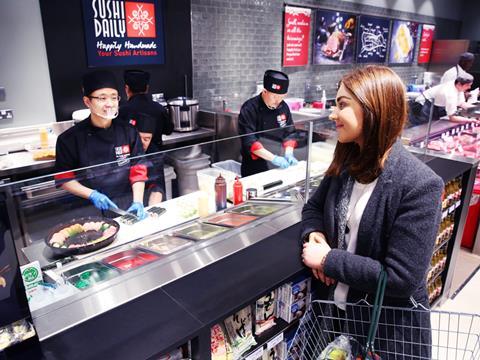 Waitrose has signed a technology deal that will support the continued rollout of new in-store concepts, including its burgeoning "grazing" concept.

The 10-year deal with IT company PCMS will enable store staff to use tablet devices to take payments using a service called Vision On Demand. The new technology would give the chain the "operational agility to deploy new applications when and where we want in the future", said Charles Webb, Waitrose head of IT delivery.

With new store concepts such as grazing, sushi bars and juice bars, Waitrose wanted the flexibility to operate mobile payment devices and to launch new ideas quickly "while maintaining a reliable customer-centric shopping experience", he added.

Vision On Demand would allow Waitrose to be more flexible with the types and numbers of tills in each branch, the retailer said.

There were also plans for a range of mobile devices linked to mobile card payment equipment, which "opens up new ways for our partners to interact with our customers, in our hospitality areas and across the branch away from traditional fixed tills".

Waitrose's new grazing concept, which provides eat-in-store tapas, bakery, juice bars and wine will be rolled out to a further 20 outlets on top of the existing 64.

The retailer is also introducing secure, high-value contactless payment devices for Apple Pay to every fixed till in every branch in the first half of this year.

The deal extends the two companies' existing 10-year relationship that covers EPoS software throughout the entire Waitrose estate. PCMS also provides Waitrose with SmartStore loss prevention software, which allows it to analyse transaction patterns, identify extra training needs and manage loss prevention.