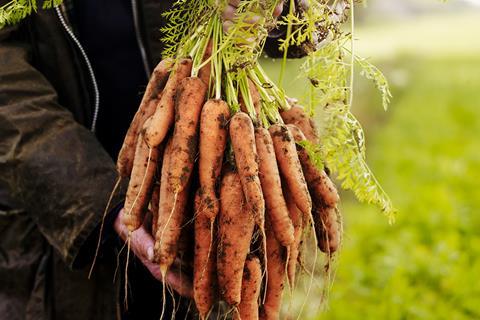 Waitrose has relaxed its size and shape guidelines on a handful of vegetables in a bid to reduce food waste of home-grown produce and help British farmers over the summer.
The retailer said it would sell wonky carrots, parsnips and asparagus to make sure as much of the UK crop was available to customers over the coming months as possible.
Some extra trimming and finishing details on the veg have also been removed to help suppliers maintain social distancing guidelines on production and packing lines.
Farms supplying Waitrose carrots and parsnips will now have more flexibility when it comes to skin blemishes.
The supermarket said it would reduce food waste by accepting more "ugly" skinned carrots and parsnips, which previously would have gone to the foodservice industry.
For British asparagus, the size range has been expanded to include produce normally destined for the food processing and catering sectors. Trimming specifications have also been relaxed to allow packing lines to maintain social distancing measures and run with less staff.
"We are committed to supporting our farmers through a really difficult time," said Amanda Frisby, Waitrose fresh produce technical manager.
"By changing and being flexible with our specifications, it has meant we have minimised wastage of fantastic British produce and it has allowed us to take on even more veg for our customers. We keep reviewing specific specifications on all of our fresh produce lines to make sure we are getting the maximum crop available and working with our farmers to figure out new ways of working in these challenging circumstances."
Sales of core vegetables at Waitrose have jumped 31% year on year during the coronavirus lockdown as more customers cook at home from scratch, with mushrooms and root vegetables up 28% and 26% respectively, and garlic recording a 47% increase.