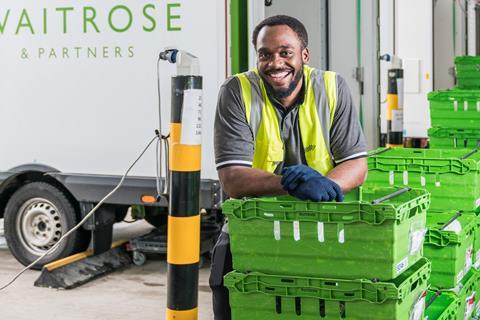 Waitrose is planning to open a third customer fulfilment centre in London in a continued push to expand its online presence in the capital.
The new site in Greenford, West London, will be opened and operated with third-party logistics provider Wincanton, which has worked with the supermarket for 20 years.
Waitrose said the centre could be up and running as early as December this year.
It follows the opening of the supermarket's new CFC in north London in May, doubling the availability of online grocery orders in London.
Waitrose said delivery slots in the capital would be four times higher than at the start of the year once the centre is operational.
"While we've already pulled forward our online expansion plans by six months, we know there are still lots of people who want to shop online with us and currently can't," said Waitrose executive director James Bailey.
"This is especially the case in London, where we've seen a significant and prolonged surge in demand for our online offer. This new centre will help us better serve the London area with a much broader range of slots."
Across the country, Waitrose.com orders are mostly picked and delivered to customers from its network of shops, covering almost 90% of active UK postcodes. To help meet high demand in London, Waitrose has already opened CFCs in Coulsdon and Enfield.
Waitrose has been rapidly expanding the online business in preparation for the end of its relationship with Ocado in September.
The retailer has also more than doubled the number of weekly slots customers can book since the start of the year, now handling more than 150,000 orders each week.