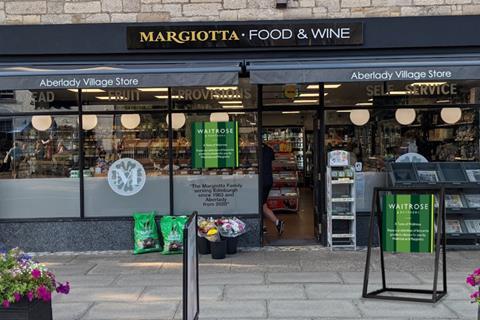 Waitrose has partnered with convenience store chain Margiotta as part of its plans to expand in Scotland.
The retailer will sell around 600 products across Margiotta's 10 stores, which are located in Edinburgh and East Lothian.
The lines, which will replace the previously sold Co-op branded products, include ready meals, prepared fruit and vegetables, snacks and store cupboard staples, free-from and vegan ranges as well as seasonal foods such as selected items from Waitrose's latest Christmas range.
The partnership kicked off on Wednesday 30 November at the convenience chain's Dundas Street shop.
Six more locations are to follow on 1 December, with Waitrose's products arriving in the remaining two Margiotta stores early next year once refurbishment work is complete.
"Margiotta is a long-standing, family-run business which shares our values of quality and service and is perfectly placed to help meet our customers' needs in Scotland," said Waitrose executive director James Bailey.
"We know convenience is key for many people and our partnership with Margiotta will play an integral role in helping us to make Waitrose food and drink even easier to enjoy."
Waitrose only has six shops in Scotland, including one in Glasgow and two in Edinburgh.
Customers can also order food and drink online from four of its Scottish shops via the Deliveroo app. Additionally, it supplies to two Shell forecourt shops in the country.
Waitrose said it is planning on exploring more potential partnerships across the UK in efforts to reach a wider customer base.
"We are delighted to be stocking Waitrose food and drinks in our stores not only because of the quality of the products but also because of the new and increased range we can now offer," said Margiotta Food & Wine MD Franco Margiotta.
"We have always strived to bring the best food products for our customers to enjoy and I am sure they will be equally delighted in our partnership with Waitrose."