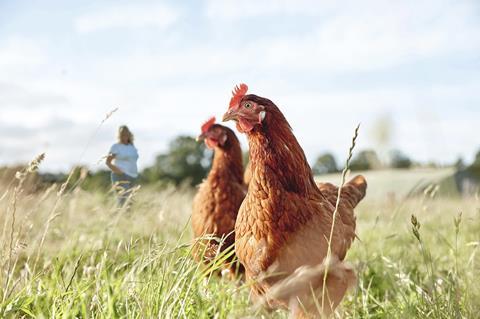 Waitrose has signed the European Chicken Commitment to improve chicken welfare across its own label supply chain.
The pledge will see it sell only meat from slower growing breeds by 2026, benefiting approximately 43 million birds per year.
It will work with poultry supplier Moy Park and Compassion in World Farming to implement changes ensuring all its fresh, frozen and chicken used as an ingredient in own-label lines will comply with strengthened welfare standards.
The ECC requires chickens to have access to natural light, perches and pecking substrates, and lower stocking densities than legislation permits – all measures Waitrose already has in place.
"We have an unrivalled pedigree of good animal welfare practices and this is something our customers expect to help future proof our standards," said agriculture manager at Waitrose, Duncan Sinclair.
"The majority of the standards outlined in this new commitment are already in place across our business. We will now identify the best breeds to comply with these standards and will continue to deliver products that have been sourced responsibly and without compromising on taste."
The retailer joins the likes of Marks & Spencer, Nestlé and Knorr which have also signed up to the commitment, meaning even their cheapest chicken products will have been raised to higher standards.
It comes after the RSPCA found 86% of consumers who bought chicken meat expected supermarkets to ensure chicken sold was farmed to higher welfare standards [Kantar TNS January 2018].
"We are hopeful this will give Waitrose's competitors the wake-up call they need to realise animal welfare cannot go on being ignored," said RSPCA chicken welfare specialist Kate Parkes.
"Fast-growing breeds still dominate the market though rapid growth can contribute to painful conditions such as severe lameness and heart defects. Retailers can often justify the selling of chicken reared to lower-welfare standards by citing they are providing both 'consumer choice' and a range of price points. However, in reality, this gives little choice to consumers on a budget other than to purchase intensively reared chicken."
Director of food business at CIWF Tracey Jones added: "We are delighted Waitrose has joined the ranks of other leading food companies signing up to the European Chicken Commitment. This really highlights their culture of continuous improvement in farm animal welfare and has the potential to vastly improve the lives of millions of chickens."