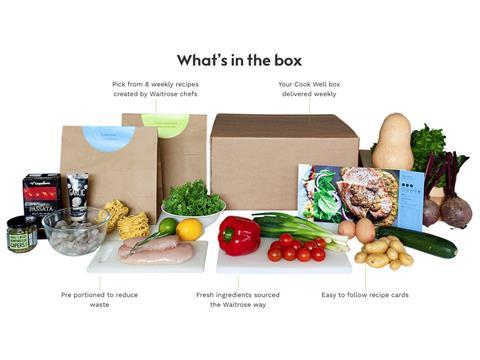 Waitrose is going head to head with Hello Fresh and Gousto with a new recipe box service that delivers fresh ingredients to customers' homes.

The retailer has launched Cook Well - a delivery service that caters for one-off and weekly subscription customers - in its latest bid to take a slice of the recipe box market.

The recipe boxes, which will be delivered directly to customers' doors free of charge from 4 May, contain step-by-step recipe cards and pre-portioned Waitrose ingredients.

Customers have a choice of eight meals each week, ranging from a Japanese-style chicken curry to a sweet potato, pepper and parsley frittata. Each meal takes under an hour to prepare and contains fewer than 610 calories, with a Malaysian laksa containing just 222 calories.

A box of two meals for two costs £28 and a box of three meals for two comes for £39, meaning individual portion prices range from £6.50 to £7.

The pricing structure makes Cook Well slightly more expensive than its established rivals in the recipe box market. Hello Fresh charges between £4 and £6.50 per portion depending on the quantity ordered, while Gousto meals range from £4 to £6.

Waitrose's latest foray into the recipe box market comes shortly after the trial of in-store kits in October. In March, MD Rob Collins revealed it had abandoned the Dinner for Tonight kits, priced £8 to £12 for a meal for two, after finding meal suggestions at meat and fish counters worked better in the store environment.

Waitrose is not the only supermarket keen to venture into the recipe box market, currently estimated to account for less than 1% of UK grocery spend. Last month, Sainsbury's began stocking Hello Fresh meal kits in stores at £10 each and the Co-op is currently mulling a partnership with Gousto. Tesco, meanwhile, has been trialling recipe kits in-store since November.
Waitrose said it was "always exploring potential new initiatives" that may appeal to customers. "We can confirm that we're in the early stages of a small scale trial of inspiring and delicious recipe boxes," said a spokeswoman. "We're currently running this trial with partners and selected customers to gauge demand and help us refine the proposition before deciding on our next steps."