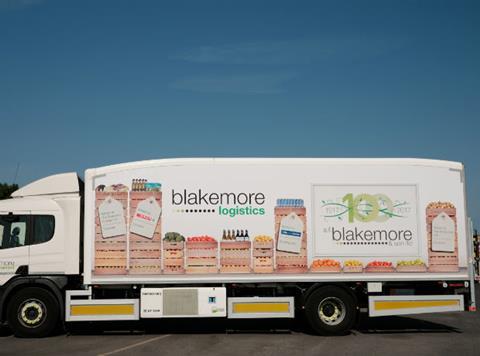 The livery on AF Blakemore's 300-strong fleet of delivery trucks is to change to reflect its diverse distribution area.

The Spar wholesaler will trial the new design on 40 vehicles over the next six months ahead of a two-year rebranding programme.

The new livery features imagery of food and drink deliveries destined for retail, wholesale and foodservice customers across the UK.

Blakemore said the new design aims to reflect the breadth of its distribution area and the diversity of sectors served by the company.

"This rollout of new livery across multiple AF Blakemore divisions reflects a more consistent and aligned approach to the way we do business across our logistics operation," said Blakemore group logistics director Andy Grinsell.

"This is all part of a wider 'One Logistics' project currently being undertaken by the company that is working towards optimising fleet efficiencies and warehouse operations across the group."

Suppliers will also be offered the chance to purchase advertising space and use the vehicles to promote its own messages.

"With a fleet of more than 300 vehicles travelling the length and breadth of the UK every day, this new livery is a great opportunity to promote the Blakemore brand and our company values as well as a very effective means of advertising for our suppliers," added Grinsell.