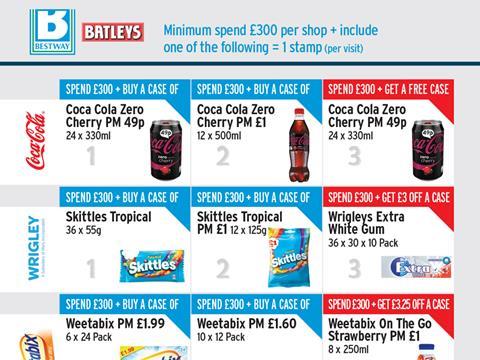 Bestway is launching a loyalty card for retailers.

Available from 1 February, the Rewards Card will offer retailers a heavily reduced or free case of product every third time they shop at Bestway or Batleys.

Cards are rotated monthly and customers will collect a stamp when they spend over £300 in depot and purchase a stipulated item. After receiving three stamps, customers can pick up a free or heavily reduced case. "The new Rewards Card is just another reason why customers should find they are better off at Bestway and Batleys," said Bestway Wholesale marketing manager Salih Sheikh. "The introduction of the new Rewards Card is a way for the group to say a massive Thank You to all our customers who choose to shop with us on an ongoing basis."

If retailers collect 12 stamps over the month, they will be entered into a prize draw to win back the cost of a previous shop to the value of £1,000. Each of the 60 depots will have one winner every month.

Last week, Bestway reported a "busy and challenging" year, with a 4.2% decrease in turnover and a 9.3% dip in pre-tax-profits for the year to 30 June 2015.