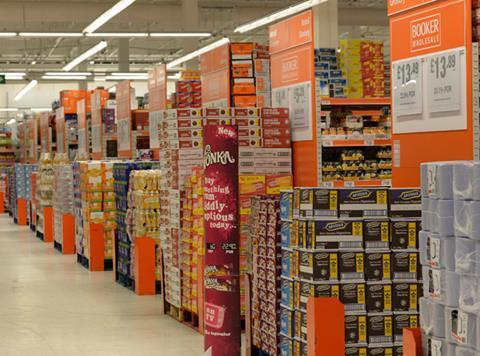 Booker has overtaken Palmer & Harvey to become the UK's biggest grocery wholesaler by turnover, after reporting full-year sales of £4.7bn.
The figure, for the 52 weeks to 28 March and 17.3% up on the year before, means Booker leapfrogs the £4.2bn turnover of P&H.
In a trading update released this morning, Booker said like-for-like sales, excluding Makro, rose 2.1% during the year.
Like-for-like non-tobacco sales rose 4.4%, but like-for-like tobacco sales fell 1.7%. Sales to retailers also fell 0.5%, but rose 7.1% to caterers.
It also said customer numbers, excluding Makro, rose 5% to 529,000, while internet sales rose 10% to £777m.
For the fourth quarter to 28 March, total sales including Makro rose 16.3%. Like-for-likes excluding Makro rose 1.9%, with non-tobacco like-for-likes up 3.4%. Tobacco like-for-likes fell 0.7%.
Without citing figures, Booker said its wholesale division achieved its best-ever customer satisfaction scores. "Customer numbers were up and sales were in line with expectations."
It added that the turnaround of Makro was "progressing well". Non-tobacco sales fell 8% in the quarter following a decision to stop selling some consumer ranges, such as televisions.
"This was a good quarter," said Booker CEO Charles Wilson.
"We received our best-ever customer satisfaction scores in Booker and Makro as we continue to improve the choice, prices and service to catering, retailing and small business customers in the UK."