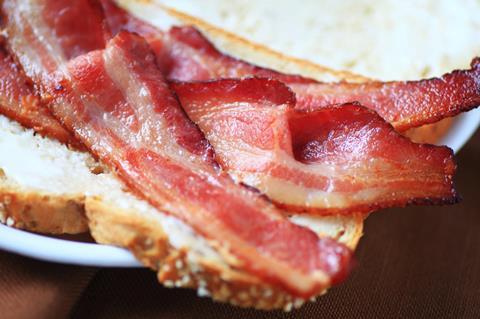 Brakes is enjoying a massive jump in orders on a Sunday as its customers gear up for the Eat Out to Help Out rush.
The foodservice giant said Sunday for Monday orders were up 150% during the first two weeks of August, compared with those at the end of the hospitality lockdown on 4 July.
The surge in orders has seen demand rocket for some products, including a 1,000% increase in sales of bacon compared with May.
Steak is up 350% and vegan cheese has seen high demand, with a 300% sales increase for the same period.
Sachets of sauces and condiments were also "heavily in demand" according to the wholesaler, as restaurants moved away from shared bottles.
However, despite an upturn in activity this month, Brakes said sales were still down overall year on year.
Its customers in inner city locations were continuing to struggle, it said, as they had missed out on the staycation boom and people remained working from home.
"The foodservice industry remains volatile and uncertain, and we don't expect a full recovery any time soon," said Brakes CEO Hugo Mahoney.
"EOTHO is a month-long scheme which looks unlikely to be government funded after the end of August. We would like to see the government increase its support for foodservice, whether through extending the Job Retention Scheme or the EOTHO scheme, and indeed industry associations like the FWD and UKH are lobbying for this. Some of our customers are putting their own discount schemes in place, but realistically it's going to remain a materially smaller and very competitive market for the foreseeable future."
News of a bumper August comes after Brakes announced the closure of at least two of its depots in June.
At the same time, it entered hundreds of employees into a consultation period as the business launched a major coronavirus recovery plan.