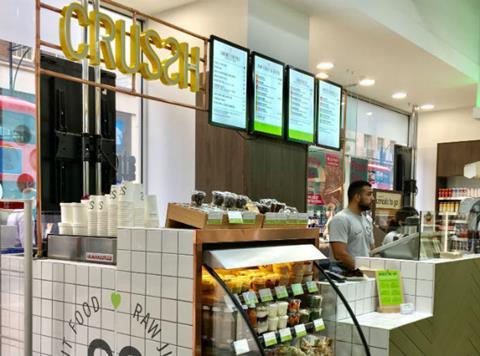 Crussh has launched a franchise partnership with foodservice giant Sodexo to roll out over 35 stores across its UK and Ireland client sites within five years.

The deal will propel the juice specialist into universities, hospitals, major events and corporate workplaces, with the first site due to open later this year.

"This is a really significant partnership for us, and provides an incredible opportunity to bring our brand of healthy food to a new audience in locations where we think we can make a real difference," said Crussh CEO Shane Kavanagh.
"Our goal at Crussh is to improve the wellbeing of our people and our customers, and since we began this process we have felt a great alignment with Sodexo's aim to promote quality of life services. We have been working on this for some time, and we can't wait to get the first site opened."

Sodexo service operations head of food platform Dan Corlett added: "We're delighted to partner with Crussh and bring this innovative and healthy brand to our clients and customers, and complement our sustainability strategy Better Tomorrow 2025.

"Crussh will be taking a creative approach to the requirements of each location, so customers could see food trucks and pop-ups as well as traditional café formats."

In April Crussh also signed a franchise deal with travel hub operator SSP to roll out stores across its transport sites in Europe and the UK over the next few years.