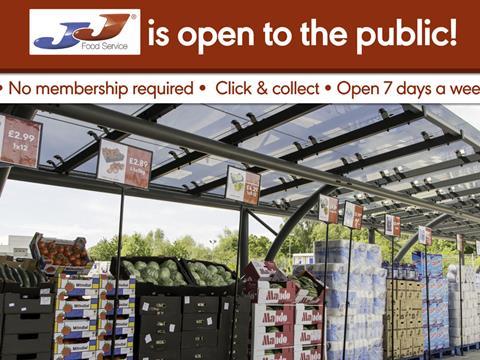 Wholesaler JJ Food Service is opening its Enfield branch to the public.

It has invested £40,000 into a display area to highlight deals relevant to households. There is no membership fee for customers and they can order online for same-day collection.

The 18-metre long glass canopy area is situated outside the meat and poultry counter and will highlight regular weekly promotions. These will also feature on giant billboards outside the branch to boost visibility with passing traffic.

"We've noticed a growing number of consumers shopping with us because our prices compare favourably with the supermarkets. We've responded by making our best promotions more visible to customers who visit the branch," said Terry Larkin, group general manager of JJ Food Service.

"With food prices on the up, consumers are looking for better deals. We can offer great savings on key household items like fresh fruit and vegetables, cleaning products, toilet roll and soft drinks."

The first wave of promotions include Sprite, Coca-Cola and Domestos as well as vine tomatoes and watermelons.