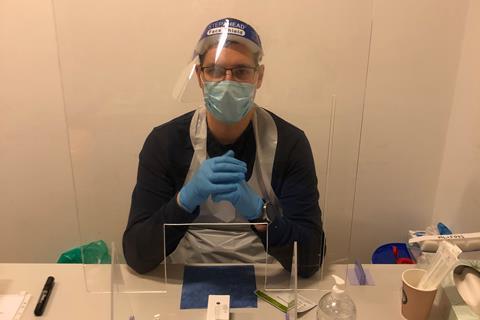 James Hall has detected 13 asymptomatic positive coronavirus cases at its distribution centre in Preston after conducting 4,000 lateral flow tests last month.
The Spar wholesaler said these positive cases left its Bowland View site immediately to self-isolate and to take another NHS Covid-19 test.
The diagnosed staff were then tested again before returning to work.
It comes as ACS CEO James Lowman encouraged members to seek information on testing sites for key workers through its local authority website.
The trade association said it was working with Defra and local authorities to "ensure testing is available and accessible to c-store colleagues".
James Hall began weekly tests from 4 January at the Lancashire distribution centre in conjunction with Lancashire County Council.
This includes testing for production, transport, office, warehouse, field sales team and catering staff.
More than 30 colleagues were trained by the Army in how to supervise, administer and process the tests, while protecting themselves with PPE and sanitising each station between tests.
Read more:
Staff then process each result and enter details of positive cases on the NHS Test and Trace system so the company can deliver weekly reports to Lancashire County Council and identify any positive cases quickly, the wholesaler said.
If a staff member does receive a positive result, they must immediately leave the site, self-isolate for the appropriate time and take another NHS Covid-19 test.
They must also use this system when returning to work and cannot enter their department without a negative result.
"Clayton Park Bakery took part in a pilot testing scheme before Christmas and those tests proved very useful in protecting our workforce, identifying positive cases quickly and ensuring minimum disruption to production," James Hall health and safety director Steven Pickup told The Grocer.
"As a result, we were keen to implement a testing scheme at Bowland View and with over 800 members of staff coming on-site during the testing period, these tests have played a very important role in protecting our key workers, their families and the daily business operations.
"We have had a very positive response from staff across the company and plan to continue testing until April when we will review the situation.
"Staff have embraced this weekly test willingly and we must say a huge thank you to the volunteers who have come forward to protect their colleagues and the continuation of the essential services our business provides. Your commitment is hugely appreciated by all across the business – thank you."