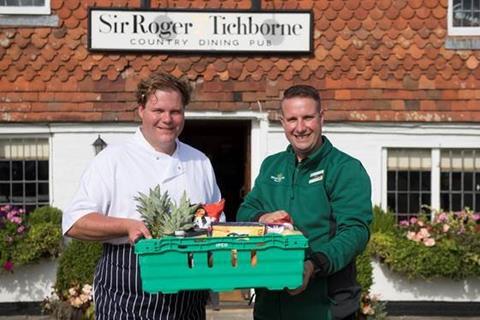 Morrisons has begun supplying restaurants and pubs for the first time as it expands its wholesale division.
The grocer has partnered with new online platform StarStock to sell more than 1,500 lines into the on-trade.
The range, which has been curated for the hospitality sector, includes products from Morrisons' Market Street offer as well as own-label and branded products.
The ranges covers categories including meat, fish, dairy, dry grocery, frozen and bakery.
StarStock Group launched its new platform on 5 August and has so far amassed 1,000 customers. It initially launched selling only alcoholic and soft drinks, working with suppliers such as Coca-Cola, Britvic and Bacardi.
Morrisons will deliver to the pubs and restaurants via its existing logistics network used to supply McColl's convenience stores.
"This is what our customers want, a consolidated food and drink offer," said StarStock Group founder and CEO Sam Ulph.
"We are fully committed to making StarStock the platform of choice for pub, bar and restaurant operators when purchasing their food and drinks range. For too long, these businesses have been restricted by how and when they can order food and it's time to shake this up.
"We're thrilled to be working with Morrisons to give on-trade businesses access to high-quality, competitively priced food, as they continue to bounce back from what has been a devastating 18 months for the sector."
Morrisons online and wholesale director James Badger said: "We're excited to be working with StarStock and serving pubs, restaurants and hotels across the country through our wholesale business."