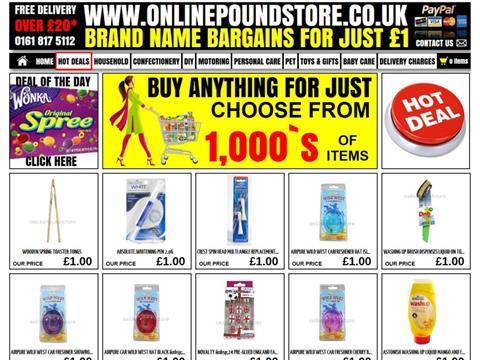 Onlinepoundstore.co.uk, the site launched last month by Manchester-based wholesaler B&J Supplies, claims it has had more than 123,000 site visits in its first six weeks of trading.

Founder Garry Almond, who launched onlinepoundstore.co.uk in a bid to tap consumer demand for discounted products, said the site was "going like mad" since launch.

It had seen a huge surge in traffic, growing from 10,000 hits in the first week of March to 123,264 hits to date.

He claimed around 10% of site visits had resulted in a sale, the majority of which were more than £20 to qualify for free delivery.

"It's building up steam, it really is," he said, adding that he had employed three people to work full time on the site.

To attract customers, Almond said the company had also heavily discounted some lines, including Colgate mouthwash, which has an rsp of £3.99.

"We're putting some lines on that we're actually losing money on," he admitted. "But if they buy 20 items, we can work the cost in."

On-site promotions such as daily 'hot deals' had also performed well, he claimed.