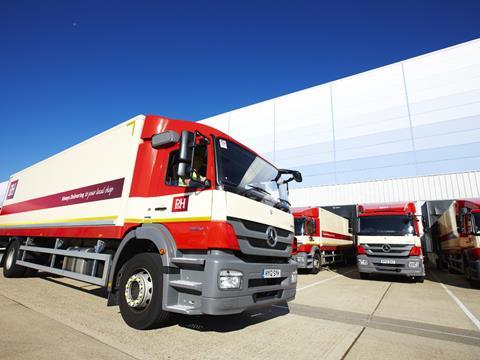 The collapse of Palmer & Harvey is set to become the latest business failure to be examined by MPs after the chairman of the Commons Work & Pensions Committee Frank Field indicated it would be included in a wider investigation into the increasing number of company pension funds being bailed out by the taxpayer.

Referring to the estimated £80m pension black hole, Field told the Mail on Sunday: "I'm massively concerned. It's not just a one-off. We are beginning to see a pattern of people raiding companies, then leaving them to be rescued by the Pension Protection Fund."
Shell has admitted there could be the "possibility of interruption" to the supply of products at its filling stations in the wake of P&H going bust.
"Shell is confident this will not have a sustained adverse impact on the supply of convenience retail products to its company-owned service stations," said a spokeswoman. "While there may be the possibility of interruption to the supply of some lines over the next few weeks, Shell has activated a contingency plan to ensure the best continuity."
Palmer & Harvey supplied 90,000 outlets such as motorway service firms and forecourts like Welcome Break and Moto.
Morrisons extended its partnership with Rontec for it to operate 50 Morrisons Daily stores at its sites earlier this year.
The c-stores had been supplied by P&H but neither Morrisons nor Rontec would comment.
Moto said Blakemore "stepped in last weekend for twice-a-week deliveries" to all its retail and forecourt shops.
Field was reacting after it emerged that P&H executives, including Chris Adams and Chris Etherington, received almost £70m in interest payments since a 2008 MBO on preferential shares that had been funded using interest-free loans from P&H's staff benefit trust. The payments of at least £8m per annum were given out as late as 2016 despite growing debts and increasing losses. It also emerged that the scheme was set up using a separate company vehicle called Buildtrue, and had £42m funds according to the latest accounts, but administrators were unable to access these as they were ring-fenced.

As The Grocer went to press, 10,500 people had signed an online petition calling on parliament to launch an investigation into the delivered wholesaler's collapse.

The petition, set up by former P&H employee Claire Walton, reads: "At the end of November the UK's number 1 wholesale delivery business went into administration after the mishandling of company funds. As a former Palmer & Harvey employee it would be good to understand how and why it was allowed to happen, and have the people held to account."

Commenting on the petition's page, ex-P&H employee Catherine Bernard wrote: "Those people who have literally destroyed a company that's been around for a century, and ruined a lot of people's livelihoods, should be brought to justice."

Sarah Williamson wrote: "There are definitely individuals responsible for the company's decline who need to be held accountable."