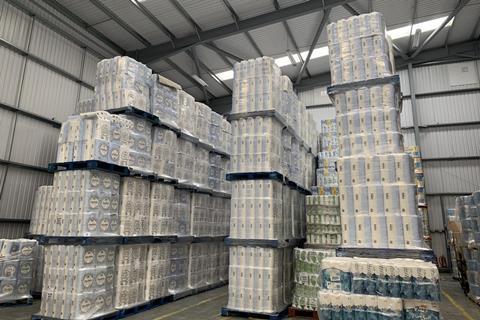 Wholesalers are taking a 'common-sense' approach to rationing supplies as demand for hygiene products and certain foodstuffs went through the roof this week.

Panic buying of hand sanitisers, loo roll, dried pasta and tinned vegetables cleared supermarket shelves across the country in the past few days. Independent retailers and caterers are also desperate to secure stock on these fast-selling lines.

"One of our customers tried to buy the equivalent of three months' stock for our entire business on anti-bacterial handwash," said one wholesale director.

However, wholesalers said they were limiting orders to ensure fairness and trying to avoid selling to operators keen to make a fast buck or export product.

"We are having to ration our toilet roll, tissues and soap orders," said JW Filshill marketing director Craig Brown. "We don't have a maximum per customer. However, when we are seeing customers who usually order two-three cases placing orders for 50 cases, this will be cut back to 10."

Bestway Wholesale MD Dawood Pervez said: "We are using common sense to ensure stock availability to as many customers as possible and to avoid the sale of sensitive items to customers involved in export."

The Grocer understands Booker is also limiting quantities on several lines.

Regal Wholesale, which specialises in paper products, household and health & beauty lines, has seen a massive increase in demand.

"We are in the eye of the storm," said MD Chris Hughes. "Some of our biggest brands - Andrex, Carex, Dettol - have completely wiped out of the depot."
Hughes said it had seen 'a domino effect' over the past week as hand sanitiser sold out and demand shifted towards other antibacterial products. He praised suppliers but warned the wholesaler was getting nowhere near the levels it needed.

He said website sales at the Liverpool-based business had increased by 360% and phone orders rose 92% over the past week. Overall weekly sales were 28% higher than its historical record-breaking week.

Customer service advisers at Regal have been managing customer expectations and monitoring orders to ensure online resellers are not bulk buying to give existing customers' orders a chance to be fulfilled in the first instance.

"It's a bit disconcerting that people are out there profiteering from this," said Hughes. "There is no way we will entertain that behaviour."

In a meeting between government and industry leaders on Monday, it emerged that panic buying had been more severe in the south than the north, and that wholesalers had noted regional differences.

"The situation is fluid, with little evidence of panic buying," said Paddy Doody, sales and marketing director at Northern Irish wholesaler Henderson Group. "Should the need to restrict customers ordering in excess happen, we have procedures in place."

Doody said Hendersons had seen a 3% overall increase in retail sales compared with normal for this time of year.