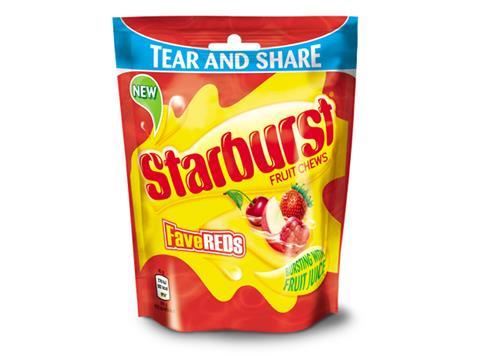 Wrigley's is adding two new Starburst SKUs to its line-up as it rolls out a new pack design.
The new Starburst FaveReds will be available as a 45g stick and 19g pouch, comprising strawberry, raspberry, cherry and red apple chews.
The move will be supported by Starburst's multimillion-pound 'Unexplainably Juicy' marketing campaign, which launched on 28 January and features Michael Bolton serenading trees, along with in-store, outdoor, and online activity.
"Starburst FaveReds has delivered outstanding results in the US and is currently the second best-selling SKU in the Starburst range. We expect sales in the UK to replicate this achievement," Wrigley confections business unit director Matt Austin said.
Last year Starburst grew ahead of the overall sugar confectionary market, rising 6.5% to £23.3m.