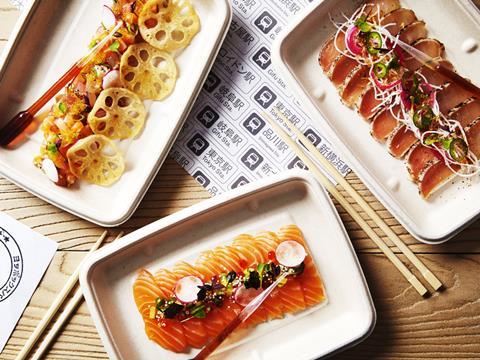 Japanese restaurant group Yo Sushi has signed an agreement to pilot food-to-go counters at Tesco.

Under the deal Yo will have a manned kiosk at two Tesco sites, creating made-to-order sushi and adding to Tesco's front of store food-to-go lineup.

The first of two trial sites opens today at Sunbury-on-Thames Extra, with the second at Bournemouth Extra opening next week.
The move will see Tesco customers able to buy bestsellers from the Yo To Go range and sharing platters, as well as new products such as Mini Ninja kids bento boxes, sushi snack boxes and dessert sushi rolls.

It is the first time Yo To Go branded products have been available outside of Yo's 74 restaurants.

"This is clearly an exciting move," said the firm's CEO Richard Hodgson, adding: "We have seen substantial increase in demand for to-go products over the last 18 months and developing our Yo To Go proposition is an important part of leveraging the expertise and capacity gained through the recent Bento and Taiko acquisitions.

"As consumers continue to look for high quality, fresh and speedy food options, we are well placed as a global multi-channel, multi-format Japanese food platform to lead in making sushi more accessible, not only via restaurants but also kiosks and supermarkets."