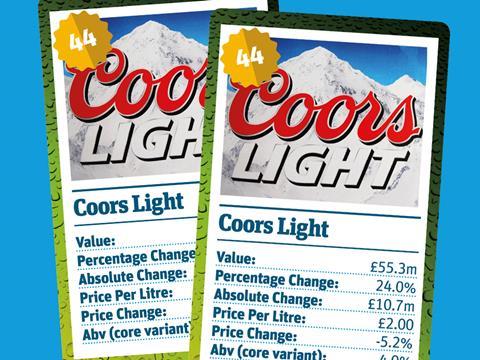 Sales: £55.3m Growth: +24.0%
Teaming Coors Light with the Muscles from Brussels four years ago proved a knockout move for Molson Coors - and it keeps on delivering.
Jean-Claude Van Damme has helped propel the brand - which had once virtually dropped off the radar - into a top 50 position. In the past 12 months the brand has gained a further 7,200 off-trade distribution points, an increase of almost a third.
The campaign has evolved in the past 12 months to become more experiential to appeal to the brand's experience-seeking 18 to 24-year-old core audience. Activity has included the chance to win a trip to the Ice Bar in Austria - which 25,000 Brits entered - and to see drum & bass band Rudimental.
Although sales have grown, the brand has suffered price deflation of just over 5%. Brand director Ali Pickering says Coors Light has partly been a victim of its own success, as an increase in sales of the brand's mid and large packs has driven down the average price per litre. This has been offset, however, by a 6% increase in the average price for smaller packs.
The impact of price promotions is also being mitigated to a degree by added-value offers. Last month the brand began giving away freezable coasters (to help keep beer 'Damme cold').
As for the rest of the year, further TV and VOD is planned, along with a new on-pack offer from August.