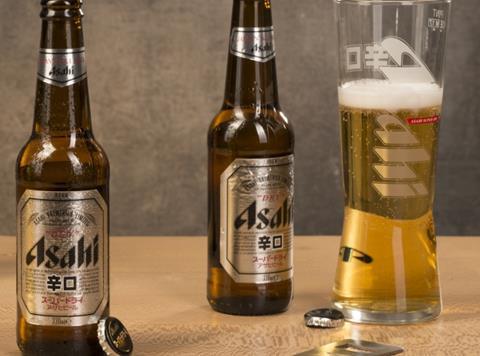 Japanese lager brand Asahi Super Dry has disappeared from the shelves of the big four supermarkets after owner Asahi UK relaunched the beer with a new recipe in January.
Tesco, Asda, Morrisons and Sainsbury's have all dropped the beer since the relaunch, research by The Grocer suggests, with insiders claiming Asahi had tried to push through "noticeable" cost hikes. It has also shrunk the 660ml bottles to 620ml.
Waitrose is still selling Asahi Super Dry but has hiked prices for the brand significantly since the new bottles hit shelves on 25 January. The new 620ml bottle is priced at £2.65 in Waitrose, compared to £2 for the original 660ml bottles, while the 1,320ml bottle is up from £4.60 to £6 [Brand View 52 w/e 2 March 2018].
Until recently, Asahi Super Dry was brewed and distributed by Kent brewer Shepherd Neame, but Asahi UK decided to bring the brand back in-house and began brewing it to its original Japanese specification at the Peroni brewery in Italy.
"Asahi UK now views it as a 'super premium' product with the original recipe," said an industry source. "But while the recipe has changed - and it probably does taste better - in the mind of the customer it is the same product. It looks the same."
Retailers would be wary of listing the new-recipe Asahi at a higher price in case it looked like they had simply increased their prices, the source added. "The customer needs to know it is a different product, not a price increase for the sake of a price increase. So it's not necessarily been delisted but it is a decision not to list the new Super Dry."
Asda confirmed it had delisted Asahi Super Dry, while a Sainsbury's spokeswoman said it "regularly reviews all our lines to ensure we're offering our customers the best possible choice, quality and value". Morrisons and Tesco did not comment, although Tesco's Twitter account advised shoppers the product had been 'discontinued'.
A spokeswoman for Asahi UK stressed the brand was still in "launch stage" and bottles had been made smaller to make it "consistent with Asahi UK's portfolio".
"It has always been our intention to reposition Asahi Super Dry and therefore this is very much in line with our plans among our customers, both in the on and off-trade. In some instances, this repositioning involves a physical movement on shelf, which requires alignment to customer ranging windows," she said.
"This is very early days for the brand and we are very much in discussions with the supermarkets about how best we can relaunch the brand in line with its new category position. Many retailers, including Waitrose, have been first to position the brand in the marketplace and this does reflect its new pricing in the super-premium category."
The new Asahi Super Dry bottles are also available in Ocado and Majestic.