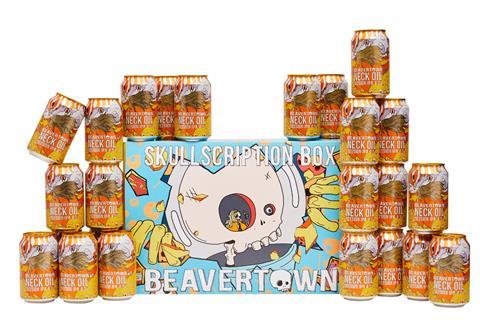 Beavertown Brewery has launched its first monthly subscription service.
The direct-to-consumer service launched today (23 May) via the brand's web shop.
Shoppers can select a 24-pack of beers to be delivered monthly at a £5 discount from the usual retail price.
The subscription spanned the brand's entire core range – including mixed cases – and could be paid for monthly or ordered in bulk, "making it the perfect gift for the beer lover in your life", it said (rsp: £36-£55/24x330ml).
Beavertown is also offering two subscribers who subscribe ahead of 23 June the chance to win a year's worth of beer for free.
It comes after a flurry of activity from Beavertown, which over recent weeks added its first gluten-free beer, called Critical Mass.
The supplier also launched a new pale ale, called Young Sun (4% abv) into Young's pubs across London and the south of England, as well as its first rice lager, called Potted Planets (5%), which was made with rice grains claimed to give it "a lighter, dryer taste" than regular lager.
However, it isn't the only beer brand hoping to benefit from a multichannel approach.
BrewDog, for instance, last year launched what it claimed was the first carbon negative beer club.
The DTC service ships monthly boxes of beer from BrewDog and craft brewers such as Cloudwater and Mikkeller to subscribers.