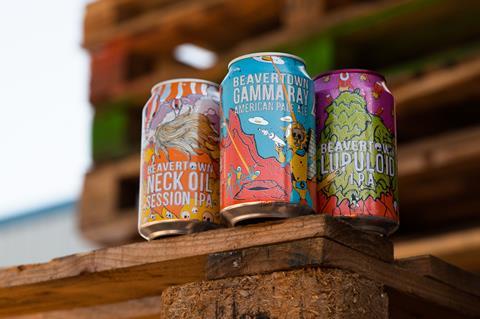 North London craft brewery Beavertown has opened the doors of its massive new brewery in Enfield.
Called Beaverworld, work started on the 129,000 sq ft site in Enfield after Beavertown sold a 49% stake to Heineken in 2018, netting the brand £40m towards the new brewery.
It will be able to produce some 90 million pints of beer every year – a tenfold increase on the brewer's current capacity, creating 150 new jobs over three years in North London.
The site includes a brewhouse, packaging space, warehouse, logistics hub and offices. The new brewhouse would "deliver the best extract efficiency and flavour consistency while being incredibly energy efficient", said the brand, adding it was "designed to provide the great flexibility Beavertown requires to produce a varied and extensive range of beers".
Beaverworld had "been a long time in the making" said Beavertown founder Logan Plant, adding it was "the answer to our dream of getting more Beavertown in the hands of the masses".
Since the Heineken deal, the brand has made major inroads into the mults: it is currently listed in Sainsbury's, Waitrose and Ocado. The brand's off-trade sales surged 500% in the year after the sale alone.
Beavertown's opening marked "the culmination of many years of hard work from Logan and the whole team at Beavertown", said Heineken craft development director Jochen Van Esch.