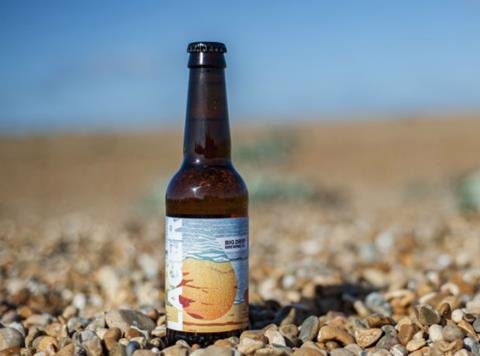 Award-winning low-alcohol craft brewer Big Drop is searching for investors after winning a huge contract with a leading supermarket chain.
The startup, founded in December 2016, has secured listings from September of its 0.5% abv pale ale, stout and lager in a big-four retailer across hundreds of stores.
The contract will require Big Drop, which moved production from a small-batch brewer in Bermondsey to Sussex-based own-label specialist Hepworth, to scale up production from 10,000 litres per month to some 40,000 litres.
But founder Rob Fink, who has already built distribution in international supermarkets, as well as Fortnums and in the on-trade via the likes of upmarket restaurants such as Hakkasan, Hawksmoor, The Draft House and The Ivy, is looking to raise upwards of £250,000 to build consumer awareness.
"We need to go out there and create demand not just in the trade," said Fink. "Because if you are paying attention to the alcohol-free drinks sector in the trade, you would have heard of us. But now we need to drive customers to buy our beer from [supermarket] shelves."
Big Drop won the Dragon's Pantry competition and was voted overall show winner at the UK Food Shows, the William Reed exhibition held in Birmingham this week. It is also a finalist in the Best Drinks Producer category at the upcoming BBC Food & Farming Awards – going up against Hepple Gin and Burning Sky Brewery – having won awards at the International Beer Challenge and the World Beer Awards in 2017.
Fink said he was approached by the UK supermarket chain off the back of its growing reputation and sales, including exports to the Albert Heijn, Holland's largest supermarket group and Alko in Finland.
"Our off-trade listings abroad are already significant. I was expecting we would have to get traction in the UK off-trade before export orders started coming in but the reverse has been true."
Big Drop also plans to launch a string of seasonal brews that will rotate alongside its three-strong core range. It will launch a sour beer for the summer months, followed by a red ale this autumn.
"Our raison d'être is to create great beer that is 0.5% abv," added Fink. "Whereas a lot of the big companies brew [alcohol-free beer] because they think they should, and so they can tick the box for corporate social responsibility. They don't really care about it."