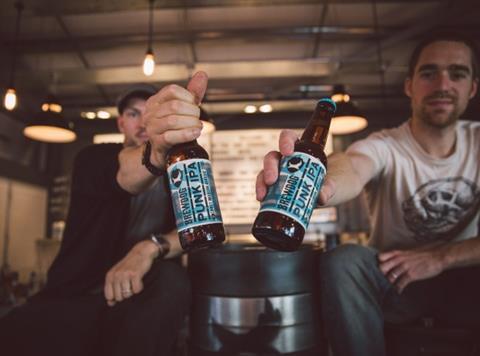 BrewDog has unveiled a raft of ambitious plans for the coming years, including the establishment of Europe's first fully chilled supply chain for craft beer and a yearly £200k development fund for startups.
In a wide-ranging document called 'The Blueprint' released this week, the Scottish brewer has detailed plans to open The Hop Hub, a new distribution centre in Glasgow, which it is billing as Europe's first fully refrigerated beer warehouse. BrewDog has long been pushing to increase chilled beer storage throughout its supply chain, first announcing plans for a chilled transport network for its beer at its 2017 AGM.
Refrigerated craft beer distribution was "the norm in America", said BrewDog. "We want to ensure that it very quickly becomes the norm in the UK. The delicate flavours in hoppy beers fade away far faster if beer is stored at ambient temperatures so we have made a huge investment here in taking the lead for cold storage and cold distribution of craft beer in Europe."
To celebrate the launch of The Hop Hub, it will roll out a 6.1% limited edition '30 Day IPA', a lightly kettle and whirlpool-hopped brew designed to showcase "the hop flavours which fade most rapidly with both time and heat".
It has additionally built a new barrel ageing facility, called The Hinterlands, teaming up with Speyside Cooperage. From this it will release a series of new barrel-aged beers, including four editions of a new imperial stout and three editions of a new barrel-aged barley wine in 2019.
It will go on to work with a cooper to build its own 'hybrid casks' for the facility, which it said would allow it to "explore new depths of flavour in craft brewing".
Development fund
BrewDog will also set aside £200k every year to boost beer-based startups and smaller breweries, providing not just financial support but "sourcing ingredients and brewing materials, offering its state-of-the-art laboratory for beer analysis, supporting them to grow sales by introducing recipients to its international sales network, and much more".
The first business to benefit from this will be US-based initiative Dope & Dank, which works to "bring craft beer to a more diverse audience in the US and around the world".
BrewDog is inviting "anyone who works for a UK independent craft brewer" to an open day at its Aberdeenshire base, where it will offer seminars on subjects such as sales, brewing, exporting and quality control.
Furthermore, it has cut payment terms to seven days for its small brewery suppliers. "We know all too well what it is like to run a small or fledgling craft brewing operation," said BrewDog.
Meanwhile the brand's 'Unicorn Fund' - BrewDog's scheme that shares 10% of its yearly profits with employees, has been "evolved" with the launch of the BrewDog Foundation, a £1m annual fund that will be donated to charities chosen by the brand's employees and Equity Punk investors.
BrewDog was "determined to show that craft beer can be a force for good in the world, and we'll continue to build a completely new type of business, with our community firmly at the helm", said founder and CEO James Watt.
In the on-trade, 'the Blueprint' will see BrewDog launch a new franchise programme, which will allow Equity Punk investors to set up their own bars. The programme will initially be trialled in up to10 locations ahead of a potential further rollout.
Impending IPO
Watt further detailed BrewDog's plans to potentially take the company public by as early as 2020. "We are talking to banks at the moment and we're doing what we need to do internally to be in that position to go," he told The Grocer, suggesting BrewDog could take a non-traditional approach to being a PLC.
"There have been examples of public companies in the US for instance that don't do thinks like analyst reports because their time is more effectively spent on their business. We'd be keen to see which things we could do a different way."
BrewDog skyrocketed up The Grocer's ranking of Britain's Top 100 Alcohol Brands this year, pulling in a massive £32.4m in extra value sales, bringing its total take-home value to £71.2m. This makes it the UK's 40th biggest booze brand, and its 13th biggest beer brand [Nielsen 52 w/e 21 April 2018].