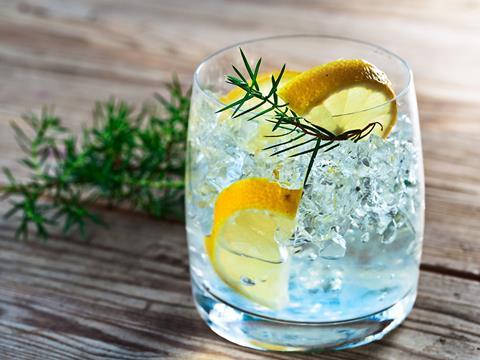 Supermarket gin sales surged this Christmas as Brits splashed out £36.4m on the spirit in just one week, putting it ahead of vodka as a festive tipple for the first time.

Value sales of gin were up 45% year on year in the week to Saturday 23 December, with supermarkets selling 2.2m bottles at an average price of £16.39, IRI's Retail Advantage data has revealed. That's 636,000 more bottles than were sold during the week before Christmas 2016.

In contrast, overall BWS sales increased by just 0.1% over the same period, with value sales of vodka (-2.6%), white rum (-4.1%) and dark rum (-3.1%) dipping to £34.6m, £5.4m and £11.9m respectively.
Even prosecco's festive bubble burst, the data suggests, with value sales of sparkling wine falling 1.1% on volumes down 1.6% year on year.

"Overall BWS sales were pretty flat compared with last Christmas, even sparkling wine is in slight decline - but gin has done an absolute stormer," said Martin Wood, IRI's head of strategic insight, retail solutions & innovation.

"There is obviously gifting going on, and when you are gifting all those fancy flavours and craft bottles will be a good choice. But when you look at the top-selling SKUs, Gordons has also done really well, which suggests people are also just drinking more gin and tonic."
Prosecco losing fizz

Prosecco remains a hugely popular festive drink, Wood stressed, with 8.8m bottles of sparkling wine sold in supermarkets in the week before Christmas, putting value sales at £76.2m. However, the data suggests gin could be stealing some of its fizz.

"Gin and tonic provides a bubbly refreshingness that is not a million miles away from prosecco," said Wood. "It's a clear, fizzy, alcoholic feelgood drink. And it's British."

Ale sales also dipped 5.4% to £29.2m during the week to 23 December 2017, suggesting some of last year's gifting spend on craft ales could have shifted to gin, noted Wood.

"Last year, the craft ale boom meant there would have been much more choice available than there was during Christmas 2015, whereas this year [2017] there hasn't been that same increase in distribution," he said. "That is partly happening to gin now."

Still wine was in growth - with red wine value sales up 2.4% compared with Christmas 2016 - while soft drink sales were up 5.9%, driven by a 30% surge in value sales of mixers.

The pre-Christmas surge meant that for the year as a whole, total market sales of gin in 2017 were up by 28% by value versus 2016.
Beyond booze

Looking beyond booze, value sales of sweet biscuits (+10.9%), salty nuts and popcorn (+6.6%), crisps and bagged snacks (+3.2%) and confectionery (+4.1%) were also in good growth in the week before Christmas compared to the same week in 2016.

In the five weeks to 23 December, total spend on food was up 3.1% in the supermarkets, although volumes were flat at 0.3%, reflecting higher prices for food and drink this year, the IRI data revealed.

Shoppers bought more frozen foods as they looked to economise, with sales of frozen whole turkey and crowns up by 8.6% in value to £23m in the five week period, although £55m worth of fresh turkey was sold by supermarkets in the week before Christmas alone.

Sales of non-food items fell by 1.4% on volumes down 5.5% as shoppers drifted away from traditional presents, with flowers, fragrances, technology, electrical, kitchen appliances and CDs/DVDs the most affected items.